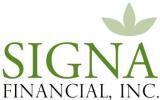 "Signa will help small banks increase earnings, improve CAMEL rating and capital ratios and mitigate risk through SBA lending"," says Signa President Terry Robinson.
San Francisco, CA (PRWEB) September 11, 2012
The new company Signa Financial, nationwide SBA experts, is now actively working with small banks across the nation to set up and administer SBA lending programs. Many small banks have the desire, but not the resources, to create their own SBA or Small Business Administration lending department. Signa provides the expertise to allow small banks to thrive, and there has never been a better time to get started in the SBA lending sphere.
What are the benefits to offering SBA loans? One very compelling reason is that SBA loans are, on average, more profitable for the bank while helping the local businessman grow his business. In addition, the government backing of such loans helps to mitigate risks within the loan portfolio. SBA loans increase the liquidity of the banks offering them and when sold in the secondary market can increase capital rather than depleting capital.
Additional benefits can include cross selling; the SBA borrower may also need other bank services, and may also bring new referrals. In addition, the new SBA borrower can also give the bank access to high value relationships outside its normal footprint. Because SBA loans benefit the local economy, your bank can help rebuild and bolster the community in which you do business. Finally, government agencies are encouraging banks to participate in the SBA lending programs.
Outsourcing SBA lending is nothing new. Banks across the nation have been outsourcing services for a long time. The newest SBA services from Signa Financial provides partner banks with a number of benefits. Most small banks and lending institutions could benefit from SBA lending, however they find it too expensive to create their own SBA lending departments. Signa does away with this negativity by allowing banks to outsource the full range of SBA lending without incurring the time and costs necessary to operate an SBA department.
Here are just a few of the benefits of offering SBA loans through an expert outsourcer like Signa:
Mitigation of lending risk
Growth and expansion of the SBA program is seamless
Complete loan fulfillment from beginning to end
The ability to leverage an experienced team of SBA professionals
Start immediately instead of taking up to 6 or 7 months to set up a division
There are many other benefits, including a chance to compete with larger banks. Signa even helps to grow bank business by bringing borrowers in directly through its own marketing and relations, and the bank will not need to market if it does not wish.
Small banks are small businesses, and new firm Signa Financial is helping both through its services.
About Signa Financial
Signa Financial offers expert SBA services to small businesses and small banks. Our motto is to rebuild the American economy, one business and one loan at a time.
Signa Financial has two informational websites: http://www.sbasource.com and http://www.sbaloanadvisor.com