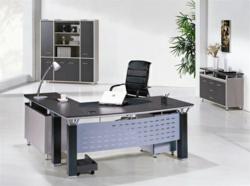 DefySupply now sells wholesale office furniture, in addition to inexpensive modern furniture for the home.
Minneapolis, MN (PRWEB) September 11, 2012
DefySupply recently introduced a new line of affordable wholesale office furniture for a fraction of competitors' costs. In a tough economy, it's hard for businesses to justify expenses that don't contribute directly to the bottom line. DefySupply realizes money should be spent growing the business rather than furnishing it, which is the reasoning behind their new selection of office furniture.
"DefySupply is excited to provide wholesale office furniture to growing businesses. As a growing start-up, DefySupply recognizes the importance of every dollar. With that said, it's our goal to provide durable furniture at the most reasonable prices, so the money saved can be reallocated towards growing the business," says Brent Gensler, DefySupply CEO.
Since most employees spend over 40 hours a week at their desks, durable and comfortable office furniture is a must for every business. With DefySupply's new line of wholesale office furniture, companies can purchase new furniture that doesn't skimp on value or comfort. New pieces in DefySupply's office furniture collection include office chairs, computer desks, collaborate work stations, office cabinets and more.
"As a contributing factor for employee productivity and workplace efficiency, office furniture is a vital investment in your business. Our wide selection allows businesses to select furniture that matches their corporate culture and style without spending a fortune," adds Gensler.
Other recent additions to DefySupply's collection of inexpensive modern furniture include both wholesale commercial pieces and residential furniture items. Living room furniture, such as microfiber sectional sofas and sofa sets, are some of the latest items for home furnishing. New commercial additions include wholesale seating, such as bar stools, for restaurants and other business.
About DefySupply
DefySupply, headquartered in Minneapolis, is a bridge allowing everyday consumers to buy directly from the world's top manufactures at a fraction of the cost. Check out DefySupply reviews to read what customers are saying and learn more about the company. Follow DefySupply on Twitter for daily updates.