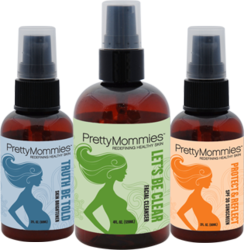 Pregnancy is a special and delicate time for a women... We have found the Pretty Mommies skin care line to be beneficial for our patients who are pregnant and feature their products in all our offices.
Orlando, FL (PRWEB) September 12, 2012
Pretty Mommies LLC recently launched the Pretty Mommies Skin Care Line. Their all natural maternity skin care products are designed specifically for pregnant and nursing women to safely and effectively address common skin conditions associated with motherhood and to provide an overall healthy complexion. Their products are currently available in hundreds of physician's offices in 19 states.
Women discover that their bodies change during pregnancy, including changes in their skin and they need products they can use without being concerned for their child's safety.
"Pregnancy is a special and delicate time for a woman; it brings numerous hormonal and physical changes," said Matt L. Leavitt, DO, Founder and Chief Medical Officer of Advanced Dermatology & Cosmetic Surgery. "These changes are often reflected in the skin, ranging from acne-type conditions, dry skin, rashes, stretch marks and skin discolorations, etc. There is a significant necessity to educate these patients on their new skin care needs, and provide them with safe and effective skin care products that will protect and hydrate their skin throughout their pregnancy. We have found the Pretty Mommies skin care line to be beneficial for our patients who are pregnant and feature their products in all our offices."
After heading a company that distributed pharmaceutical grade skin care and products, Gina Zeiger the CEO/Founder of Pretty Mommies, was always troubled by the limited options for maternity skin care. She was also surprised by how other companies that were marketing themselves as a pregnancy line often used ingredients that were not recommended to be used by women that were expecting. Some ingredients, in fact, were to be avoided due to studies that showed links to reproductive and developmental toxicity as well as birth defects.
After years of research, insight from leading physicians and collaboration with top cosmetic chemists Pretty Mommies was developed.
"Women are more conscientious than ever on what they are doing to their bodies during pregnancy, especially paying a great deal of attention to their diet," said Zeiger. "However, due to the lack of information and education surrounding skin care and topical products these same women are just not aware of the potential dangers associated with using some very common cosmetic ingredients. We are committed to raising awareness and providing information so mothers can make the best and most informed choices for themselves and their baby."
Each ingredient used in their line offers not only a skin care benefit but most often also have a dietary benefit to the mother and baby. Their initial core products are a simple three step system – Cleanse, Brighten and Protect.
Let's Be Clear Facial Cleanser naturally washes away impurities without drying out your skin. It is also formulated to help with hormonal acne breakouts, which is very common during pregnancy.
Truth Be Told Skin Brightener is a multi-functional product that not only helps to brighten the skin but also provides noticeable anti-aging benefits and helps the skin retain moisture.
Protect & Reflect SPF 30 offers broad spectrum UVA/UVB protection with a pure, non-nano zinc oxide that goes on clear. Their physical sunscreen is highly effective at preventing hyperpigmentation and melasma from becoming worse.
Please visit their website at http://www.prettymommies.com to learn more about safe maternity skin care and the benefits of their natural, key and active ingredients. Pretty Mommies is Redefining Healthy Skin.