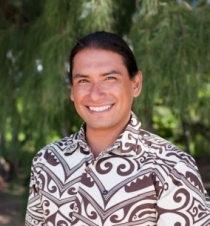 Kauai, Hawaii (PRWEB) September 12, 2012
Maui'd Forever is one of Hawaii's few full service, all-Hawaiian Islands wedding planner and coordinator. Founded in 2003 by entrepreneur Mark Steffan, the company operates on the Hawaiian Islands of Oahu, Maui, Kauai and the Big Island of Hawaii. They use over 150 different wedding vendors and still find the need to add additional members to their team.
They are happy to announce their newest member on the Island of Kauai, Rev. Kaplan Bunce. Kaplan is the youngest member of the Maui'd Forever team of wedding ministers.
Kaplan like many in the Islands comes to Hawaii from elsewhere. He hails from beautiful Olympia, Washington.
Trained in carpentry, Kaplan was raised in the majestic rain forest of Washington where he forged a bond with nature and it's endless treasures. Kaplan says "I grew up with a Huck Finn kind of life, I was always in trees and rivers, with my dog." Eventually Kaplan followed in his mothers footsteps to become a carpenter and later got the calling to move his young and growing family to Kauai in 2006. He knew that he wanted to live on Kauai but what I didn't know is how much he could love Kauai. With hard work and sacrifice Kaplan and his family, came Hawaii with only what could fit in their suitcases. They have since made a nice home for themselves on the south shore of Kauai in Koloa.
Kaplan's close friend who is a wedding photographer suggested that he get ordained to perform weddings. His friend kept telling him that with the way he speaks and with his spiritual way of life he would be great at sending people off on their path together in marriage. So after some spiritual advice from his elders and much thought he became ordained in January of 2012.
.
Rev. Bunce says "My goal is to offer unique non-denominational weddings for people from all walks of life. I want to make the experience special by respecting and honoring the Hawaiians and their ancestors in my ceremony as well as designing services around the clients personal wishes. Your wedding day is one of the most important days of your life and the service of binding two people as one is sacred. My services reflect that from start to end."
Rev Bunce is available anywhere on the Island of Kauai and in any of the wedding packages Maui'd Forever offers.