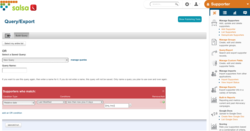 These features are designed to support our nonprofit clients with their donor management efforts, both online and offline.
Washington, DC (PRWEB) September 12, 2012
Salsa Labs, Inc.(Salsa), creator of the online and integrated platform for nonprofits of all sizes to build their support base, announced today key upgrades to the donor management tools. These improved functions allow clients to create a mail merge using Google Docs, quickly generate new user groups, customize email response triggers based on specified groups and run queries based on a given date range. The new features are designed to further integrate donor relationship management with online campaigning, saving organizations time and manpower.
"These features are designed to support our nonprofit clients with their donor management efforts, both online and offline," said Charles Parsons, Salsa product manager. "The integration with Google Docs allows for the simple transition of data from Salsa for easy printing, and the new group features make it a breeze to segment and communicate with custom groups of supporters."
Salsa's new features are available to clients now by contacting their account manager. The importation to Google docs option allows users to create a template, choosing from any of the supporter management information stored in their Salsa database, and import that template via mail merge into a Google Doc. This new streamlined process quickly and smoothly facilitates the generation of supporter and donor letters - from thank yous to event reminders.
Smart groups save organizers the time of adding supporters to groups one by one, instead offering a quick way to generate new groups of supporters based on specific requirements. After establishing groups, clients can set customized autoresponse emails to send at the completion of an action or donation to a certain supporters, based on their membership in a given group. Finally, new date range querying options allow clients to run reports within a date range, to more effectively evaluate campaigns and action efforts.
These latest developments come on the heels of other exciting recent Salsa upgrades, including social media integration features and further enhancements to the donor management package that included Peer-to-Peer Fundraising.
Christine Schaefer, vice president of Community and Marketing for Salsa, added: "Salsa's greatest investment goes into our product and service development so that we may continue to strive to offer our clients the technology they need to focus on creating change, not managing data."
About Salsa Labs
Salsa Labs (Salsa) helps non-profits and political campaigns to build, organize and engage a base of support. In one easy-to-use, integrated and flexible web-based system, groups of all sizes can manage their supporters and chapters, communicate through email and social media, fundraise, advocate, host events and measure results. With all that as well as our top-notch training, support and strong online community, Salsa provides you the best value for your investment - letting you focus more resources on your mission. Salsa currently supports more than 2,000 organizations' relationships with more than 75 million donors, members, activists and fans all around the world. For media information, contact Tim Rusch with FitzGibbon Media at (917) 399-0236. We can do more things together than we can apart. http://www.salsalabs.com.