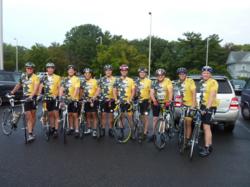 Bethlehem, PA (PRWEB) September 14, 2012
VCI Mobility will have a team of cyclists participating in the 2012 Bike MS: City to Shore Ride, being held on Saturday, Sept. 29 and Sunday, Sept. 30. The ride covers the area between Hammonton, NJ and Ocean City, NJ. The VCI Mobility team of cyclists will join nearly 7,000 riders of all ages and cycling abilities to raise money for the Multiple Sclerosis (MS) Society. The 2012 ride represents the 32nd anniversary of Bike MS.
Many of VCI Mobility's customers have MS or are the family members/caregivers to individuals with MS.
The City to Shore Ride, which has been named; "Best Cycling Getaway" by Bicycling Magazine, raises money for MS research, education and also supports different programs and services.
Additional information on the 2012 Bike MS: City to Shore Ride can be found at http://bikepae.nationalmssociety.org. To sponsor Team VCI Mobility, visit http://main.nationalmssociety.org/site/TR/Bike/PAEBikeEvents?team_id=303910&pg=team&fr_id=17956
About VCI Mobility:
VCI Mobility (VCI) is a full-service mobility products company with locations in Bethlehem, PA, Norristown, PA, Cinnaminson, NJ and Woodbury,NJ. VCI offers a large selection of new and used wheelchair accessible vans, adaptive driving aids, lifts, ramps, handicap van rentals and service, among others.
VCI maintains an outstanding reputation for quality and service and represents industry manufacturers who reflect the same business practices.
VCI's mission is to open the door to freedom for persons with disabilities in order to allow them to enjoy more active, mobile lifestyles. VCI Professional Sales Consultants pride themselves on being among the most knowledgeable and experienced in their industry. In addition to educating consumers on the wide variety of mobility products available, VCI Mobility Consultants can also assist in selecting financing and warranty programs that fit their customer's unique needs.
Experience, Integrity, Innovation….the driving forces for VCI Mobility. For more information, please visit http://www.vcimobility.com