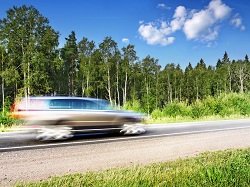 We hope that Kia Motors finds the cause of this accelerator problem and takes the appropriate steps to prevent similar incidents before there are serious injuries.
Newport Beach, CA (PRWEB) September 12, 2012
Lauri Ulvestad is to be commended on keeping a clear head while maneuvering her car to avoid other cars when her own vehicle was traveling at uncontrolled speeds of over 110 miles per hour, as recounted in a recent Herald Sun article. The Iowa woman was driving her 2011 Kia Sorento north on Interstate 35 in Missouri when her accelerator got stuck and her car accelerated out of control.
According to the Herald Sun article on August 27, 2012, she called 911 and two state troopers were dispatched to help her. One pulled in front of her to alert traffic ahead and the other one stayed behind her. The 911 operator was in constant contact with the Jefferson City Highway Patrol headquarters. Ms. Ulvestad tried everything the 911 operator suggested to slow her vehicle, including applying the emergency brake, taking the car out of drive and putting it in neutral.
Someone suggested that she pull up on the accelerator and push down on the brake at the same time and that worked, abruptly slowing down her car. "It slammed me from 119 mph to like nothing," she said.
In the Herald Sun article, the Highway Patrol spokesman, Sheldon Lyon, praised Ms. Ulvestad's driving as she was forced to weave in and out of traffic and a construction zone with no way of slowing down. Especially dangerous was going into the median grass area and to pull back into the lane without over-correcting. The speeding three car caravan traveled 59 miles in 35 minutes.
What was disappointing to the highway patrol were the drivers who did NOT pull over to get out of the way, even with the lights and sirens going. He said that every close call was caused by those drivers.
In an Orlando Sentinel August 24th article, Kia Motors, based in Irvine, CA, emailed a statement to Associated Press saying that it appears to be an isolated incident. Their technicians were unable to duplicate the problem she was having. In the meantime, they have supplied her with another vehicle.
The Kia Sorento has had some recalls for other issues: On August 31, 2010, the 2011 Kia Sorento was recalled for an electrical issue - wiring harnesses for the vehicle's interior illumination. On November 24, 2010, there was a recall when it was noticed that some of the rear brake calipers were not properly machined. For more information about recalls, go to: http://www.motortrend.com/cars/2011/kia/sorento/recalls/#ixzz24loz88gK
John Bisnar, of Bisnar | Chase Personal Injury Attorneys comments: " Everyone was very lucky in this incident, thanks to the clear-headed driving of Lauri Ulvestad and the excellent work of the Highway Patrol and 911 operators. We hope that Kia Motors finds the cause of this accelerator problem and takes the appropriate steps to prevent similar incidents before there are serious injuries. What is most troubling and something I don't have an answer for is the motorists that didn't pull over immediately when approached by the speed caravan with sirens blaring."
About:
Bisnar | Chase Personal Injury Attorneys specialize in Orange County Auto Defects cases as well as other product liability and personal injury cases. Their goal is to get companies to produce safe products and provide sufficient warning of the dangers of their defective products, ultimately resulting in the saving of lives. If you have an injury resulting from a defective product, call 800-561-4831 or fill out the form at this website: http://orange-county-lawyers.com for a free case evaluation.
Attributions:
http://www.heraldsun.com.au/news/world/accelerator-on-lori-ubelstads-2011-kia-sorrento-gets-stuck-on-interstate-35-in-missouri/story-fnd134gw-1226459268299
http://articles.orlandosentinel.com/2012-08-24/news/sns-ap-mo--stuck-accelerator-kia-statement-20120824_1_high-speed-trip-iowa-woman-accelerator
http://www.motortrend.com/cars/2011/kia/sorento/recalls/