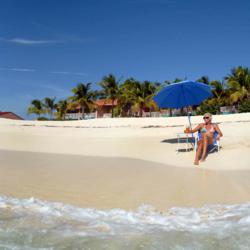 Located just 50 miles east of Miami, Bimini Sands
lets guests experience
the real Bahamas - a laid-back island lifestyle framed by Bimini's incredible turquoise waters.
South Bimini, Bahamas (PRWEB) September 12, 2012
Bimini Sands Resort & Marina on South Bimini in the Bahamas announces its All-Inclusive 5-Night Vacation Package for the Fall & Winter 2012/2013 season. Priced at just $145 per person per night*, this affordable package covers everything guests need for a fun and relaxing Bahamas vacation, from marina-view villa accommodations to chef-styled island fare and libations, as well as a shark encounter or other resort activity. Guests who arrive by boat also receive free dockage for the length of their stay.
And here's the kicker: There are no blackout dates for this package—even over the holidays.
Available from October 1, 2012 through March 31, 2013, Bimini Sands' All-Inclusive 5-Night Vacation Package includes the following premium features:
o Accommodations in one of Bimini Sands' marina-view villas, equipped with bedroom(s), kitchen, living room, laundry facilities, and balcony or patio.
o Three meals daily at the resort's casual Petite Conch Café or elegant Bimini Twist Restaurant for the duration of the stay.
o Unlimited free beverages at Bimini Sands' resort restaurants and Mackey's Sand Bar, including alcoholic beverages for adults with valid ID.
o One complimentary resort activity with the Bimini Sands Activities Center.
o Free dockage for boaters (included with purchase of the full package).
A stay at Bimini Sands allows guests to experience the real Bahamas—a laid-back island lifestyle surrounded by wild natural scenery framed by Bimini's incredible iridescent blue waters. This off-the-beaten-path island resort features uncrowded white-sand beaches, three freshwater swimming pools – including a brand new Infinity Pool – and a beautifully maintained nature trail.
Affordably priced eco-adventures and watersports activities available through the Activities Center include shark encounters, island boat tours, snorkeling trips to Bimini's world-renowned dive sites, guided kayak tours, and paddleboard rentals. Shopping in North Bimini is only a five-minute ferry ride away. Offshore fishing and bonefishing charters in Bimini's legendary waters also can be booked through Bimini Sands Resort.
At night, guests dine at Bimini Twist Restaurant at The Beach Club (Bimini Sands' second resort property on South Bimini), featuring a fresh twist on traditional island fare – and Bimini's only sushi bar. Next-door is Mackey's Sand Bar with its sand floor, ring-toss game and popular Wednesday Karaoke Night.
Pet lovers will appreciate the fact that Bimini Sands is a dog-friendly resort. Dogs are welcome in most of the villa accommodations, and "Scooper Stands" are located around the grounds for their owners' convenience. Guests who are not Bahamas citizens must apply for a Bahamas Pet Importation Permit before bringing their dog to Bimini. The permit fee is just $10 per pet; for more details or to download the Pet Importation Documentation, pet owners can visit http://www.bahamas.com/bahamas/pets.
Bimini Sands is located on South Bimini, just minutes from the island's international airport, with convenient flights from South Florida and Nassau, Bahamas. Located just 50 miles east of from Miami, Bimini is also a popular fishing and cruising destination. The resort's full-service marina welcomes boats ranging up to 100 feet.
*A minimum five-night stay is required for Bimini Sands' Fall & Winter All-Inclusive 5-Night Vacation Package. The rate of $145 per person (including children) per night plus tax includes accommodations as follows: Two persons in a one-bedroom villa; three persons in a one-bedroom loft villa; four persons in a two-bedroom villa, and up to five persons in a two-bedroom loft villa. Complimentary resort activity to be scheduled by the Bimini Sands Activities Center Staff, group size and weather permitting. Offer is subject to availability. Reservations must be paid in full at the time of booking.
About Bimini Sands
Located just 50 miles from Miami on the Bahamas gateway island of South Bimini, this year-round resort features luxury one- and two-plus-bedroom villas with beach or marina views, a full-service marina accommodating boats up to 100 feet, three freshwater swimming pools, upscale dining—including the island's only sushi bar—and a full suite of eco-tourism water-sports activities. Minutes from Bimini International Airport with service to the U.S. East Coast and Nassau, its idyllic location offers spectacular views of Bimini's luminous blue waters, sunsets over the Gulf Stream, coral reefs and a secluded ocean beach just steps from your door. Family-owned and operated for more than 15 years, Bimini Sands Resort & Marina is one of the Bahamas' best-rated family vacation destinations. For more information, visit http://www.biminisands.com.
For more information and high-resolution images, visit Turnkey Communications & PR, Inc. and click on the Press Room.