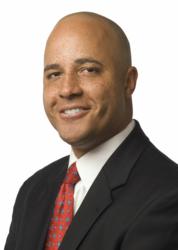 Richmond, VA (PRWEB) September 11, 2012
Williams Mullen is pleased to announce that Charles E. James, Jr. has rejoined the firm as a partner. Chuck James most recently served as Chief Deputy Attorney General in the Office of the Attorney General of Virginia, which he joined in January of 2010. Prior to that post, Mr. James had been with Williams Mullen since 2008.
His recent tenure as Chief Deputy Attorney General of Virginia gave Mr. James special insight and helped him form relationships with state government leaders from Virginia and around the country. This experience will allow Mr. James to focus his practice on litigation and state agency relations and investigations involving the offices of attorneys general throughout the country, including all 50 states plus territories.
Thomas R. Frantz, president and CEO of Williams Mullen, comments, "Chuck James was a valuable asset to Williams Mullen during his tenure with the firm from 2008 to 2010. We are confident that the experience and leadership he gained from serving in the Attorney General's office will be of great benefit to our clients. We are pleased he has chosen to return to our firm."
Mr. James previously served as a federal prosecutor in the U.S. Attorney's Office for the Eastern District of Virginia's Richmond and Alexandria Divisions and the Department of Justice's Criminal Division, Washington, D.C.
Having handled hundreds of federal cases as lead trial counsel, Mr. James has extensive courtroom experience, as well as experience investigating and prosecuting cases including conspiracy, embezzlement, public corruption, violent crime, money laundering and fraud.
Mr. James has extensive litigation experience, having argued numerous cases dealing with constitutional issues stemming from white collar, immigration and violent crime cases before the U.S. Court of Appeals for the Fourth Circuit. He will also assist Williams Mullen's government advocacy group with special projects of concern to the firm's clients.
A graduate of the University of Virginia, Mr. James received his law degree from Washington and Lee University.
About Williams Mullen
Williams Mullen provides comprehensive legal and government relations services that help grow the business of our clients and the economy of our region across North Carolina, Virginia and Washington, D.C. As an AmLaw 200 firm, our attorneys and consultants strive to find the answers and solutions that help clients grow. Putting our clients' needs first has been the foundation of our approach since the firm was founded 103 years ago. Visit us at http://www.williamsmullen.com.