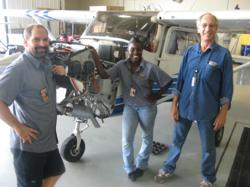 "We've listened to our community and spent many hours trying to come up with solutions – serving on local noise committees, developing alternate procedures, producing noise abatement handouts and training videos – whatever it took to try to resolve this,"
Daytona Beach, Fla. (PRWEB) September 11, 2012
After an investment of $250,000 and five years of research, Embry-Riddle Aeronautical University has found a way to address local residents' concerns about noise from its training aircraft. The university has installed new noise reduction exhaust systems and is continuing to conduct research on new quieter propellers in its Daytona Beach campus fleet of Cessna 172 training aircraft.
"We've listened to our community and spent many hours trying to come up with solutions – serving on local noise committees, developing alternate procedures, producing noise abatement handouts and training videos – whatever it took to try to resolve this," said Ken Byrnes, chairman of flight operations at Embry-Riddle's Daytona Beach campus. "But it always came back to a mechanical solution."
After testing and analyzing a variety of airplane exhaust systems and experimental propellers for the past two years, Byrnes said his department got the best results with an exhaust system from Gomolzig Company in Germany and a resized propeller. The study and installation effort has involved more than a dozen faculty, staff and students at the campus.
"We are the first large flight training organization in the nation to install a noise-reducing system in our fleet of Cessna 172 training aircraft," Byrnes said. The campus uses 41 of the planes to train students.
The new mufflers are making a difference, says Jason Kring, an assistant professor of human factors at Embry-Riddle who conducted before-and-after noise tests with a team of students.
"The regular Cessna makes 75 decibels of sound, roughly equivalent to the volume of a washing machine or a busy street," Kring said. "With the muffler installed, the sound was reduced to around 70 decibels, the same as normal conversation from a few feet away or the sound inside a passenger car."
The Daytona Beach campus averages 250 training flights a day.
"As one of the largest employers in Volusia County with over a half-billion dollar annual impact on the local economy," Byrnes said, "we're an integral part of the community and we're committed to being great neighbors."
Byrnes said his department is planning next to develop and install a quieter propeller in its training planes.
Sidebar:
41: Cessna 172 training airplanes at Embry-Riddle's Daytona Beach campus
250: Training flights per day on average
5: Years spent trying to solve airplane noise problem
$250,000: Cost of installing all 41 mufflers
1: Staff hired to install mufflers
8: Hours required for installing each muffler
Photo:
Strauss, Oyula, Fisher.jpg: Embry-Riddle aircraft maintenance technicians (L-R) Ron Strauss, Juliet Oyula and Mike Fisher pose next to one of the Cessna 172s they fitted with the new quieter Gomolzig mufflers.
About Embry-Riddle Aeronautical University
Embry-Riddle Aeronautical University, the world's largest, fully accredited university specializing in aviation and aerospace, is a nonprofit, independent institution offering more than 40 baccalaureate, master's and Ph.D. degree programs in its colleges of Arts and Sciences, Aviation, Business and Engineering. Embry-Riddle educates students at residential campuses in Daytona Beach, Fla., and Prescott, Ariz., and through the Worldwide Campus with more than 150 locations in the United States, Europe, Asia and the Middle East. The university is a major research center, seeking solutions to real-world problems in partnership with the aerospace industry, other universities and government agencies. For more information, visit http://www.embryriddle.edu, follow us on Twitter (@EmbryRiddle) and http://www.facebook.com/EmbryRiddleUniversity, and find expert videos at YouTube.com/EmbryRiddleUniv.
Media Contact:
Bob Ross
Assistant Director, Media Relations
Embry-Riddle Aeronautical University
(386) 226-6198
rossr(at)erau(dot)edu
# # #