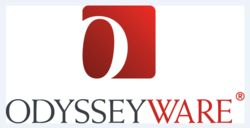 We can get facts anywhere. I would rather invest in teachers. A good teacher gets kids to learn.
Chandler, AZ (PRWEB) September 13, 2012
As an increasing number of schools across America adopt new technology-based teaching and learning resources, it has become essential that teachers are provided hands-on training and professional development opportunities to ensure they are prepared to lead a technology-centered classroom.
As one of America's premier educational publishers, ODYSSEYWARE is committed not only to student achievement, but also to teacher success. To fulfill this commitment, the company recently announced that it will be holding 12 regional user conferences throughout the school year to help teachers learn more about the uses of ODYSSEYWARE's online curriculum, discuss the challenges of the 21st century classroom, and gain confidence in their digital skills.
Teacher training is a big part of student success. According to Ryan Luft, a high school principal in Minnesota who has integrated ODYSSEYWARE into his schools' curriculum, "When we talk about textbooks and online resources, we ask ourselves which one is going to engage your kids and has the flexibility to let you do what you want. Textbooks are just like a dictionary – a book of facts. We can get facts anywhere. I would rather invest in teachers. A good teacher gets kids to learn."
ODYSSEYWARE's Regional User Conferences feature presentations and discussions that focus on maximizing individualized technology-based teaching resources, building effective differentiated courses, managing the data, digital literacy, and the successful implementation of online ODYSSEYWARE's curriculum.
ODYSSEYWARE is committed to providing teachers with the tools and training needed to maximize student success, and schools with the support essential to implementation of an online learning program. These conferences reflect that commitment.
The first ODYSSEYWARE Regional User Conference for 2012 will be held in Portland, Oregon in October. Get more information and a full schedule of conference dates online, or call 877-795-8904.
About ODYSSEYWARE:
Headquartered in Chandler, Arizona, ODYSSEYWARE is an innovative, multimedia-enriched online curriculum for grades 3-12. Completely web-based, it provides 21st century educational solutions by offering the core subjects of history and geography, math, language arts, and science, enriching electives, and placement testing. More than 300,000 students across the United States have connected with self-directed learning through ODYSSEYWARE. This curriculum is sold directly through regional education specialists. To learn more, visit ODYSSEYWARE at http://www.odysseyware.com or call 877.795.8904.