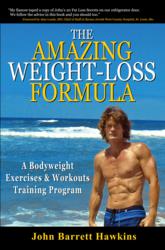 San Diego, CA (PRWEB) September 14, 2012
When author John Barrett Hawkins was writing Penitentiary Fitness: A Bodyweight Exercises & Workouts Training Program, he envisions people all across America using the book as a resource to lose weight and develop the chiseled body they always dreamed of having. Today, he is pursuing that lofty goal by offering the Kindle edition of his book free-of-charge for five days.
Penitentiary Fitness features bodyweight exercises and bodyweight workouts that require no equipment. Hawkins learned the training system when he was incarcerated in the California prison system, which does not provide weights for the inmates.
"In my opinion Olympic gymnast – both male and female – have the most beautiful, multifunctional physiques on the planet," says Hawkins. "They develop those incredible physiques by pushing and pulling their own body weight. Bodyweight exercises are the absolute best way to build muscle."
According to Hawkins weight training exercises isolate specific muscles, but bodyweight exercises incorporate several muscles at once. Moreover, bodyweight exercises increase your balance, flexibility and coordination.
Penitentiary Fitness details 14 separate bodyweight workouts that can be performed at the beach, the park or in the convenience of your own home. The book was written for men and women of all ages and all walks of life. Whether you are an overweight person who is just getting started or a fitness enthusiasts seeking a challenging new approach to exercise, Hawkins is created a workout to fit your fitness level.
Penitentiary Fitness is a 176-page book, including 34 pages of exercise illustrations. Visit the author's website http://www.johnbarretthawkins.com to read free sample chapters.
Att. Media: contact the author for interviews or review copies. Visit http://www.JohnBarrett Hawkins.com/press kit for cover art, author photos, excerpts, book summary, chapter by chapter preview, mock book review, news pegs, articles written by Hawkins, sample interview, and more – all in cut-n-paste format for easy use.