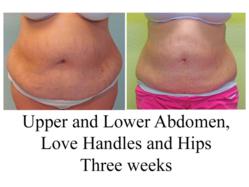 MyShape Lipo is training the liposuction surgeons of tomorrow.
Las Vegas, NV (PRWEB) September 13, 2012
There are approximately 600,000 liposuction procedures performed each year, and that number is increasing at a rate of nearly 10% per year. As the techniques for tumescent liposuction become safer and yield more consistent results, the demand for the procedure is growing rapidly. With such a growing demand, there is inherently a growing need for highly trained physicians and better lipo training courses. MyShape Lipo has committed to help train the next generation of liposuction surgeons.
Since MyShape Lipo specializes exclusively on the liposuction procedure, they are well positioned to offer training courses on this popular procedure. Liposuction is learned best through hands on experience, which gives the students of MyShape Lipo a unique advantage. As a specialty facility, the team at MyShape Lipo treat a much higher volume of patients than mosts other facilities. Because of this, students in training have the opportunity to gain invaluable experience through observation and hands on training.
Most other training courses for liposuction are simply lecture and possibly video training. It's hard to believe that a physician would feel comfortable performing a procedure after watching a video and listening to a lecture. Nor should patients feel comfortable knowing that training for physicians is so poor. MyShape Lipo aims to revolutionize the training techniques for liposuction surgeons.
MyShape Lipo of Las Vegas, specializes in liposuction and fat transfer. Their liposuction specialist, Trevor Schmidt PA-C is now offering hands on training courses for physicians and medical professionals. For more information visit http://www.myshapelipo.com or call 702-818-5476.