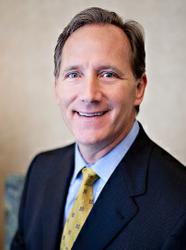 Naples, FL (PRWEB) September 12, 2012
Timothy S. Davis, D.D.S., P.A., educates new dental patients about dental implants and their benefits. Approximately 69 percent of adults between the ages of 35 and 44 have lost at least one tooth and 26 percent have lost all of their permanent teeth by the time they are 74. Implants offer a long-term solution to the problems associated with missing teeth. Once a tooth is lost, the jawbone can begin to deteriorate and this negatively affects the surrounding teeth. When a patient receives implants, the jawbone can be strengthened and the nearby teeth can be supported.
Each dental implant is made up of three distinct parts. First is the actual titanium implant. The titanium composition makes the implant resistant to decay. Dr. Davis surgically implants the titanium implant into the jawbone, where it eventually fuses with the bone, a process called osseointegration. Next is the abutment, which is the connection between the implant and the crown. The final piece is the crown, which is designed to look and function like a natural tooth.
Because dental implants are so durable, it is likely that they will not require replacement during a patient's lifetime. In addition, they do not damage the adjacent natural teeth and they help to maintain the jawbone. Each patient has different needs; therefore, the dental implant cost will vary from patient to patient and will need to be determined on an individual basis. Some dental insurance companies cover part of the dental implant cost. Dr. Davis and his staff are able to assist patients in finding a feasible payment option. For more in-depth information about dental implants, please visit http://www.naplesperiodontist.com/Treatments/IntroductiontoDentalImplants.
Dr. Timothy S. Davis has been practicing Periodontics in Naples, Florida since 1989. Dr. Davis specializes in periodontal diagnosis and treatment, laser periodontal treatment (LANAP), dental implants, and cosmetic and regenerative periodontal surgery. He has extensive training and experience in all aspects of periodontal treatment. Dr. Davis graduated from the University Of Nebraska Medical Center, College of Dentistry. He completed his General Practice Residency at Saint Joseph Hospital in Denver, Colorado, and completed his specialty training in Periodontics at Louisiana State University Medical Center in New Orleans. Dr. Timothy S. Davis was selected for "topDENTISTS" in 2011 and 2012. He was chosen by other dental professionals based on years of experience, education, manner with patients, use of new techniques and technology, and actual physical results. Dr. Davis is in the one percentile of dental professionals providing the most recent FDA cleared laser procedurefor gum disease and periodontal treatment. To learn more about Timothy S. Davis, DDS, PA, and his periodontal services, visit his website at http://www.naplesperiodontist.com and call 239-330-4996.