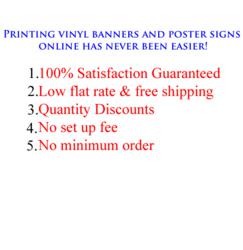 Glendale, CA (PRWEB) September 27, 2012
Today, PosterBanners.com announces a new structure for customers who shop PosterBanners.com for their poster banner advertising needs. This announcement comes in response to the growing need for high quality advertising tools at the lowest possible price. At PosterBanners.com, customers do not sacrifice quality for low prices – instead, customers get both, and more.
The site offers a large variety of poster banners, banner stands, poster printing, vinyl banners and more. All of the products offered on the site have five things in common. These common threads are: 100% satisfaction guaranteed, Low Flat Rate/Free Shipping, Quantity Discounts, No Set Up Fee and No Minimum Order.
The company looks to cater to its customers by providing a low initial cost for the product first and foremost. Then, PosterBanners.com takes away the main reservation for shopping online – the additional shipping rate. Most orders over $150 will ship free within the United States and all others have a low flat rate shipping so there are no surprises. The company also offers an additional discount for businesses that order in larger quantities. For companies who do not place larger orders, there is a "No Minimum" policy as well as a "No Set Up Fee" policy. Finally, customers enjoy a 100% satisfaction guarantee.
It is clear that PosterBanners.com knows what their customers want and they are coming to the market strong. Any companies looking to secure a quantity discount should call PosterBanners.com before placing the order. For all questions or to view the companies entire product line, please visit: http://www.posterbanners.com
About PosterBanners.com:
PosterBanners.com is a site created by Digital Pre-Press Services, Inc. DPS was founded in 1996 and has an onsite location in Glendale, California. PosterBanners.com provides custom poster signs, custom banner signs, poster banners, poster displays/stands and banner stands. The site also provides sidewalk signs, A frame signs, rigid board signs, banner stand light systems and more. The company prides itself on excellent customer service and a superior product.
Contact:
Digital Pre-Press Services, Inc.
Toll Free (888) 790-2665
Local (818) 240-2004
Fax (818) 240-3456
###