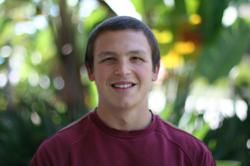 "Over the past month and a half, I have learned more than I ever previously knew about space travel and the planet Mars. It is pretty awesome"
Oceanside, CA (PRWEB) September 13, 2012
MiraCosta College sophomore Chris Berthelet was selected from students across the country to design a mission to Mars as part of NASA's National Community College Aerospace Scholars Program. Based on his proposed robotics mission, Berthelet, an engineering student with a 4.0 G.P.A., was one of 40 applicants invited to work with NASA engineers on several robotics projects at Marshall Space Flight Center in Huntsville, Ala. in October.
"The best part and hardest part of the project was that it challenged me to be as creative and inventive as I wanted." For Berthelet, the biggest challenge was that the job of creating his own space mission was so open-ended. "We were given the reins to design whatever we wanted, something I was not used to from classes where we have strict guidelines," said Berthelet, 19.
Over several weeks, Berthelet researched the Red Planet and came up with three objectives for his Mars robotics mission. His mission was to look for water beneath the surface, along with evidence of extraterrestrial life, by searching for fossils in sedimentary layers and investigating the cause of methane gas emissions from the planet and the possibility of microbial life.
Berthelet submitted an abstract, budget, timeline and mission proposal along with a line drawing of the rover that he proposed to use, giving specific descriptions of the vehicle's equipment based on past exploration and the exact location of the landing site within Yuty Crater. He dubbed the mission RESCY, short for Rover Exploration of Splosh Crater Yuty.
"Over the past month and a half, I have learned more than I ever previously knew about space travel and the planet Mars. It is pretty awesome," Berthelet said.
Learning about "splosh craters" and "time of opposition" were among Berthelet's discoveries. He learned that space missions to Mars have to be precisely timed when the planet is closest to Earth, known as time of opposition. "Some people think NASA can launch a Mars mission whenever they please, but in order to save considerable time and money, they take off around the time of opposition."
Berthelet was recently awarded the Emerson Network Power scholarship for continuing students in engineering and science. He is a member of the Honors Scholar Program at MiraCosta and the Phi Theta Kappa Honors Society. In his free time, he coaches soccer and basketball for Special Olympics of San Diego County. His interest in math and science began in grade school and grew stronger in high school and college.
"Something about working through a calculus, physics or chemistry problem and reaching a solution brings me a great sense of satisfaction."