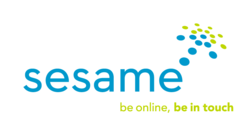 Sesame aims to be a contributing member of dentistry, the industry we have chosen to serve exclusively
Seattle, WA (PRWEB) September 13, 2012
Sesame Communications, the leading provider of online patient communication and engagement tools for dentistry, announced today two key additions to the executive team, Susan Richardson as VP Business Development and Frank Fite as Chief Technology Officer.
Susan Richardson will be responsible for securing partnerships with best-in-class dental and orthodontic organizations and manufacturers to grow the Sesame strategic alliance and partnership program. Susan has over 20 years' experience in the healthcare field, and has dedicated the last decade to helping promote healthy, profitable dental and orthodontic practices. Prior to joining Sesame, Susan oversaw Business Development for ChaseHealthAdvance where she was responsible for driving partner growth and patient financing.
"Sesame aims to be a contributing member of dentistry, the industry we have chosen to serve exclusively," said Diana P. Friedman, Chief Executive Officer of Sesame Communications. "We are delighted to welcome to our executive team an accomplished, recognized industry leader like Susan Richardson. Susan brings a wealth of experience in establishing and effectively executing lasting win-win relationships with industry partners be they manufacturers, service providers or associations."
Frank Fite is a high-tech industry veteran with 30 years of Information Technology leadership experience. Frank will be responsible for the continued innovation of Sesame technologies including the SaaS based Sesame 24-7™ solution suite. Prior to joining Sesame, Frank was one of three industry experts chosen to oversee the Microsoft anti-trust settlement, co-founding a company that developed Linux-based communications software to integrate with Windows.
"Frank brings extensive information technology experience with an authentic and engaging leadership style," said Diana P. Friedman. "His successful track record of leading, innovating and implementing technology solutions in state of the art technology leading organizations will help support the company's rapid growth and product roadmap to deliver first in class cloud-based digital solutions to dentistry."
About Sesame Communications:
Sesame Communications is the leading provider of cloud-based patient communication systems for the dental industry with more than six million patients regularly communicating with providers via Sesame services. Sesame continues to build on its category leadership position by expanding its team and service offerings through extensive market research and industry needs assessment. An Inc. 500|5000 and a Deloitte Technology Fast 500™ company, Sesame is recognized as one of the fastest growing technology companies in the United States. Sesame is also the proud recipient of numerous awards and accolades, including a two-time Pride Institute Best-of-Class winner and as one of the 100 Fastest Growing Companies by Puget Sound Business Journal. For more information about Sesame, visit http://www.sesamecommunications.com or call 877.633.5193.
###