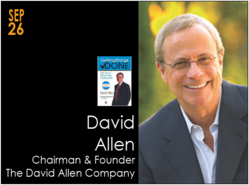 David Allen has been called "one of the world's most influential thinkers in the field of productivity;
Corona, CA (PRWEB) September 12, 2012
Elearning! Media Group (EMG) announced today that David Allen will be the opening keynote for the Enterprise Learning! Conference & Expo 2012, on September 26th at the Hyatt Regency Irvine in California. David Allen has been called "one of the world's most influential thinkers in the field of productivity;" he's been designated as "one of America's top 100 thought leaders;" and he ranks in the top 100 people to follow on Twitter, with over a million followers. He's authored 3 books, and his international bestseller "Getting Thinks Done" has been published in over 28 languages.
In this presentation, David will be focused on giving the audience two very precious commodities: time and a clear mind to use that time to be more innovative. David Allen will present a very clear roadmap that will help attendees improve their team and personal performance, capacity, and ability to execute.
Elearning! Media Group (EMG) is pleased to announce that they will offer learning professionals a free ELCE Pass to hear David's keynote address, as well as gain entrance to the exposition hall and innovation theatre. To get that pass, please go to http://www.regonline.com/ELCE_Register to register. Click on "Expo Pass" and enter the code "FREE" to be able to attend the conference.
About Enterprise Learning! Conference & Expo
In its fifth year, Enterprise Learning! Events bring onsite and online audiences together to learn, network and share. Enterprise Learning! Conference & Expo is the exclusive learning and workplace technology marketplace occurring on September 25-27th, 2012 Irvine, CA. ELCE hosts the Best of Elearning! Awards Luncheon and Learning! 100 Award winners. The Enterprise Learning! Conference & Expo Virtual edition is slated for November 8th, 2012. For more information about the Enterprise Learning! Conference & Expo visit http://www.elceshow.com.
About Elearning! Media Group
Elearning! Media Group is owned by B2B Media Group LLC and consists of eleven media products including: Elearning! Magazine, Government Elearning! Magazine, e-magazines, e-mail newsletters, Alerts, Web sites, Web seminars, the Enterprise Learning! Summit and Enterprise Learning! Conference & Expo. Elearning! Media Group serves the $160 billion enterpriselearning market. Suppliers and practitioners can follow us: online at http://www.2elearning.com, http://gov.2elearning.com; on Twitter: @2elearning, #ELCE12, #ELSummit; via Facebook: Elearning!-Magazine or LinkedIn: Elearning! Magazine Network or Enterprise Learning! Events.
About David Allen Company
David Allen Company is a global training and consulting company, widely considered the leading authority in the fields of organizational and personal productivity. The company provides services around the world to large enterprises, government agencies, non-profits, entrepreneurs, educators, and students. The company's deliverables are available in both the corporate and private sector and are designed to increase performance, capacity, and aligned execution.
Learn more in Overview of Services