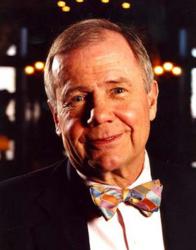 New York, NY (PRWEB) September 12, 2012
Legendary investor Jim Rogers is featured in a new film about the ongoing financial crisis. Rogers is one of many interviews in "The Bubble", a documentary that interviews the experts that predicted the 2008 crash and asks what happens next. Other cast members include Peter Schiff, Ron Paul, Marc Faber, Doug Casey, Jim Grant and numerous others. The script is written by Dr. Tom Woods and based off his New York Times best seller "Meltdown." Famous bearish investor David Tice is the Executive Producer.
In the film, Rogers makes his distaste for the Federal Reserve clear by stating, "The guys at the Federal Reserve are now supposedly saving us from the problem. They're making the situation worse. They never saw it coming in the first place. They didn't understand it. They don't understand it." Rogers firmly believes that Ben Bernanke's policy of quantitative easing and low interest rates will lead to inflation and another bubble
Contrarian views are not uncommon from Rogers but his outlook on the future on finance may be shocking to some. Rogers, who founded the Quantum Fund with George Soros believes that, "American finance is going to be in a relative decline for two or three more decades. Just like coming out of the '30s, they passed all these regulations, most of which turned out to be absurd, which made finance not a very good place to be." Instead of finance, Rogers believes that agriculture and mining will be the most profitable industries of the future.
The raw footage of the interview is available online at http://www.TheBubbleFilm.com. Updates about the film, including information about its upcoming release, can also be found at http://www.Facebook.com/TheBubbleFilm.