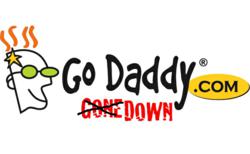 This is a wake-up call for anyone who relies on the internet as an information or revenue source
Wilmington, NC (PRWEB) September 12, 2012
UPDATE: "The service outage was not caused by external influences," Wagner said in his note to customers. "It was not a 'hack' and it was not a denial-of-service (DDoS) attack. We have determined the service outage was due to a series of internal network events that corrupted router data tables. Once the issues were identified, we took corrective actions to restore services for our customers and GoDaddy.com. We have implemented measures to prevent this from occurring again."
There's a new threat to cyber security and it has brought down an industry giant with ease. On September 10, 2012, mega host and international registrar Go Daddy was knocked offline for hours, and thousands of the sites and domains that depend on them were affected.
Shelby Brayton, CEO of Blue Label Hosting commented, "Go Daddy was literally blind-sided by the surprisingly simple, focused DDoS (Distributed Denial of Services) attack. The success of the focused attack on Go Daddy brings the importance of internet security for all sites into question".
"This is a wake-up call for anyone who relies on the internet as an information or revenue source. Whether you're reviewing your current security programs or considering a web hosting or domain registrar, do your homework," he said. "It's not about the lowest price or the biggest name, it's about value, security, and service".
Cloud data back-up and information security has been one of the hottest evolutionary business issues for years. According to a recent Forrester research survey, managers are most concerned about the safety and longevity of data due to natural disasters or power outages. As part of the Go Daddy aftermath, cyber security breaches and intentional downtime assaults are elevated to the forefront of security issues.
Hackers are getting more sophisticated every day. Companies are founded on the service of hacking websites to test security issues. Data security is advancing at the speed of threats. Yet according to an April 2011 TechWorld Europe survey in the Wall Street Journal, the majority of cloud providers are "not concerned with security issues".
Blue Label Hosting founder Brayton does not agree. Blue Label Hosting has experienced tremendous growth in the last year. Blue Label Hosting is a customer-centric small, agile company guaranteeing 99.9% up time. But how valuable is uptime if the customers' site—and the information—is not secure. The power of a caring, customer-centric venture provides more protection for customers' valuable websites that the Go Daddy powerhouse cannot.
"We have actually hired international security experts to take their best shot at hacking customer websites, to really test security perimeters", said Brayton.
"Our recent affiliation with mega web performance security leader CloudFlare.com adds yet another unsurpassed layer of protection for our clients without sacrificing speed, storage space or security. In fact, all three are enhanced. Blue Label Hosting and CloudFlare use the collective knowledge of the Internet to supercharge a website and keep information safe. The longer you are with Blue Label Hosting, the better the protection becomes from the collective wisdom harvested from shared experiences and knowledge. (link to the customer care study on cloudfare.com).
Blue Label Hosting provides multiple levels of security (SSl, Geotrust, Cloudflare) as basic privileges, not add-ons to a domain hosting relationship. Every customer receives FREE website protection with every domain. Blue Label Hosting secures data over 14 co-locational data centers across the world.
Blue Label Hosting is a comprehensive web solutions company. Services include affordable web hosting, website development and design, SSL security, on-going content management, E-commerce, and social media interaction. Cutting-edge cloud technology solutions include (DaaS) ; Hosted Exchange, and the powerful SharePoint infrastructure.
Business consultants, technical advisors and engineers are available 855-227-3196,