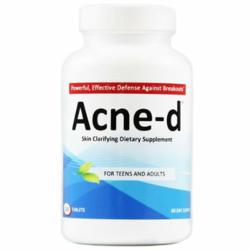 Denver, Colorado (PRWEB) September 12, 2012
Acne has always been bad news for teenagers. Now it's also bad news for a growing number of adults, who are finding themselves forced to fight off the skin condition well into their forties. For the makers of acne-fighting supplements such as Acne-d however, the news is good. The rise in both teen and adult acne has meant steadily increasing sales since the dietary supplement was introduced in 2010.
Studies show that acne now affects 25% of adult men and 50% of adult women, while one third of adults affected with facial acne also have acne on their body. In fact, according to the Journal of the American Academy of Dermatology, today's dermatologists find themselves seeing more adult acne patients than in previous decades. Not only that, but the skin condition is lasting longer and requiring treatment for many adults well into their mid-forties. (Source: Collier CN, et al. Journal of the American Academy of Dermatology. 2008; 58(1): 56-59.)
Unfortunately, today's medical professionals agree that acne is reaching "epidemic" proportions. For an estimated 60 million Americans, it's like a curse without a cure. What's worse, there appears to be little modern medical relief in sight. For example, in a recent study, 88% of adult women taking antibiotics for persistent acne found that these modern meds offered virtually no help, and in some cases, made their acne worse. (Source: Choi CW, et al. Journal of the European Academy of Dermatology and Venereology. 2010; 25(4): 454-461.)
Medical professionals say acne is nearly impossible to completely treat and cure because it is "multifactorial". This means acne has a wide variety of factors or causes, which all must be treated at the same time.
So what's causing this disturbing increase in adult breakouts?
According to the experts, the growing incidence of acne is caused by pollutions, poor diet, hormone-fed meats and even the new acne medications themselves. In addition, according to the Journal, the one common denominator for virtually all acne sufferers appears to be stress.
Acne also tends to run in families and can be triggered by hormonal changes related to menstrual cycles, pregnancy, birth control pills, greasy or oily cosmetic and hair products, drugs such as steroids, testosterone, and estrogen, high levels of humidity and sweating. Diets high in refined sugars, processed meats and dairy may also be related to acne. As a result, many acne sufferers are turning to natural supplements, as well as diet and lifestyle changes to get rid of acne.
Acne-d developed to provide safe, effective natural defense against acne.
"We've seen a steady increase in sales, partially related to the rise in teen and adult acne," said Amber Henry, spokesperson for Human Innovation Labs, the Denver-based makers of Acne-d, a new skin-clarifying dietary supplement.
"Studies are showing that clear skin starts with good nutrition," said Henry. "Because many of us have had skin issues, we wanted to develop a natural supplement that we would take ourselves, one with time-tested ingredients known to help fight acne and be safe and effective. That meant no harsh or questionable ingredients.
"Also, most times, topical products alone aren't enough to fight breakouts," added Henry. "We created Acne-d to complement our customer's dietary and skin care routines with the nutrients needed by the body to naturally defend itself against inflammation, remove toxins, reduce swelling, spur faster healing and support clear healthy skin from the inside out."
Acne-d is based on a blend of proven acne-fighting vitamins, minerals, herbs, amino acids and antioxidants. In addition to vitamins A, B, C and E, and minerals like magnesium, selenium and zinc, Acne-d's formula incorporates Horsetail Herb Extract, a healing herb that is rich in silica to promote softer, smoother skin; Collagen Hydrolysate, a protein that aids in moisturizing and firming the skin; and L-Proline, an amino acid that helps build collagen and repair skin damage.
Other ingredients include Burdock Root Powder, a favorite medicinal herb for centuries for eliminating toxins and treating skin problems such as acne; Yellow Dock Root Powder, which contains more iron than any other plant and has been used to heal blemishes and other skin conditions; and Green Tea Leaf Extract, considered one of the most powerful antioxidants with over 200 times the potency of Vitamin E in fighting free radicals which can damage the skin.
The supplement is currently offered on Amazon.com, as well as the firm's website at http://www.acne-d.com. Availability at retail outlets is pending.
About Human Innovation Labs, LLC. Based in Englewood, Colorado, Human Innovation Labs is a privately-held firm dedicated to developing safe, effective natural supplements and other innovative products to help treat a variety of aliments, including acne in teens and adults. More information about the company's new skin-clarifying dietary supplement can be found online at http://www.acne-d.com.