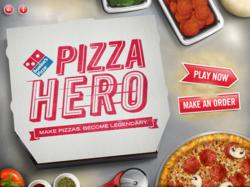 Pizza Hero.
(PRWEB UK) 13 September 2012
Domino's, the pizza delivery expert, is inviting budding pizza makers to put their pizza making skills to the test in its new Pizza Hero game.
The game, available as a free iPad app, allows players to use their hands to stretch fresh dough from scratch, add tomato sauce and then scatter mozzarella cheese and fresh tasty toppings. Once 'cooked' pizzas are then cut by hand – all from the comfort of an armchair, with no tidying up afterwards!
Pizzas are scored for each section of the pizza making by a virtual store manager and an overall mark given for speed and quality. If the game makes your mouth water, there's a direct link through to Domino's ordering website too.
Having already taken US pizza makers by storm, Pizza Hero is set to be popular with Domino's fans in the UK and Republic of Ireland. Download the game for free from iTunes - http://itunes.apple.com/gb/app/dominos-pizza-hero/id480021780?mt=8.
Notes to Editors:
Domino's Pizza Group plc is the leading player in the fast-growing pizza delivery market and holds the exclusive master franchise to own, operate and franchise Domino's Pizza stores in the UK, the Republic of Ireland and Germany. The first UK store opened in Luton in 1985, the first Irish store opened in Dublin in 1991 and the first German store opened in Berlin in 2010.
As at 24 June 2012, there were 748 stores in the UK, the Republic of Ireland and Germany. Of these, 588 stores are in England, 50 are in Scotland, 30 are in Wales, 20 are in Northern Ireland, one is on the Isle of Man, one is a mobile unit, 48 are in the Republic of Ireland and 10 are in Germany.
Founded in 1960, Domino's Pizza is one of the world's leading pizza delivery brands. Through its primarily franchised system, Domino's Pizza operates a global network of more than 9,800 Domino's Pizza stores in 73 international markets. Domino's Pizza has a singular focus – the home delivery of pizza, freshly made to order with high quality ingredients.
Customers in the UK can order online at http://www.dominos.co.uk, customers in the Republic of Ireland can order online at http://www.dominos.ie and customers in Germany can order online at http://www.dominos.de. In addition, mobile customers can order by downloading Domino's free iPhone, iPad, Android and Windows Phone 7 apps.
For more information, please contact:
The Domino's Pizza Press Office
Domino's Pizza Group Ltd
Claire McGill
Tel: 01908 580654
E: pr (at) dominos (dot) co (dot) uk
Ref: DPGL/CM/694