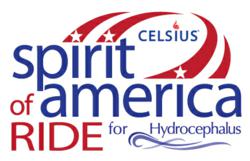 We are proud to support the Spirit of America Ride for Hydrocephalus.
Boca Raton, FL (PRWEB) September 18, 2012
Celsius Holdings, Inc. (Other OTC: CELH.PK), is proud to support the Spirit of America Ride for Hydrocephalus and to partner with Mark Paullisen and Mary Sodano, two adventurous cyclists on a 2,500 mile journey to raise funds and awareness for hydrocephalus. Traveling by bike from Tampa, Florida to Denver, Colorado, The Spirit of America Ride has partnered with Celsius and with the Hydrocephalus Association to raise awareness of hydrocephalus, a neurological disorder that causes fluid buildup that puts pressure on the brain.
Hydrocephalus affects tens of thousands of children and adults in the U.S. including Mary's teenaged niece, Madeleine. Celsius has agreed to match the first $3,000 dollars in donations made to the Hydrocephalus Association.
While quitting a job, and leaving friends and home behind to embark on a cross-country bike trip might seem downright outrageous to most, Celsius met two people who were planning to do just that. Mark and Mary have broken with convention and the everyday routine of life, quit their jobs, sold their home and most of their personal belongings and left Tampa, Florida on September 5th headed for Denver, Colorado. Mark and Mary have embraced the adventurous spirit that has made America great as well as their belief in the generous Spirit of America . Mark and Mary plan to ride about 50 miles every day for the next two months and Celsius will help them facilitate the Spirit of America Ride for Hydrocephalus blog to keep followers and supporters up to date along the way.
In addition to their blog, Mark and Mary are updating followers via social media channels daily about the trials and adventures that they encounter on this cycling tour . To follow Mark and Mary's Spirit of America Ride for Hydrocephalus, visit their travel blog here . You can also follow them on Twitter, YouTube, and Pinterest.