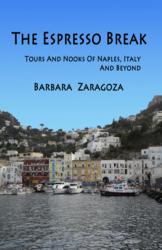 Charon ferried souls across the river Styx and sibyls uttered their trance-induced predictions—all within an eight square mile area west of Naples…
Chula Vista, CA (PRWEB) September 14, 2012
The main Italian newspaper, La Repubblica, reported that bradyseism (the slow lifting of soil) caused 113 minor earthquakes in the Phlegraean Fields outside Naples, Italy last week. The quakes, according to the Vesuvius Observatory, were at low magnitudes of 1.5 and caused no damage. For thousands of years this region has shifted and changed due to bradyseism and now is the best time for travellers to witness this geological wonder.
A comprehensive tour of this area can be found inside Barbara Zaragoza's Naples travel guide, The Espresso Break: Tours and Nooks of Naples, Italy and Beyond. Written for independent travelers who would prefer to explore the sights on their own, the book provides twelve 'hot spot' sights to visit in the Phlegraean Fields, including Solfatara where the epicenter of the quakes occurred.
"September is the best month to travel to Naples and the seismic activity is just one more reason to explore the area," says Zaragoza who combines history, archeology, geology and myths to create a fascinating tour. This is where the Roman Caesars had their summer homes, where Virgil got his inspiration for Hades and where the sybils uttered their trance-induced oracles. Once an opulent resort for the rich and debauched, today custodians take great pride and care of these ruins, often in the face of severe budgetary constraints.
The travel guide doesn't stop at a tour of the Phelgraean Fields. After a trek to the mythical fields, self-guided tours of Pompeii, Herculaneum and surrounding Roman villas make excellent travel additions for ancient history buffs. Then, another seven tours include the parallel underground city tour, the odious women tour and a historical tour of Neapolitan coffee. Zaragoza also lists thirty insider sights that range from requesting a key from a custodian to see a Mithras sanctuary to finding the main drag filled with graffiti.
New York Magazine mentioned Zaragoza's blog, The Espresso Break, as the 'go to' website for all things Naples and Kirkus Reviews said, "In this readable, entertaining information guide for tourists, Zaragoza takes readers from the heights of Mount Vesuvius to the ruins of Pompeii and beyond. Part Atlas, part history lesson, part epicurean review, this comprehensive handbook to Naples is without peer."
About The Author
Barbara Zaragoza spent three years blogging about Naples, Italy and writing about off-beat destinations throughout Europe. She has a Master's degree in European history from Harvard University and enjoys exploring local histories, myth, and travel to lesser known destinations. Her boutique travel guide, The Espresso Break: Tours and Nooks of Naples, Italy and Beyond, hit the #1 bestseller twice on Amazon.com for travel guidebooks about Naples in the last four months. For more about the author, the book, and Naples travel, go to her website Naples (Napoli) Travel Information Guide.