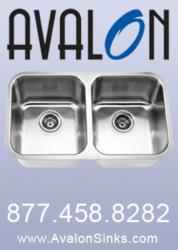 Our main focus was to make it as easy, effective and affordable as possible to millions of home owners around the country who are looking for high-performance stainless steel sinks at affordable prices – without high shipping costs
Washington, DC (PRWEB) September 12, 2012
Avalon Stainless Steel Sinks has been working heavily on the new design of their website for the past several months, and has finally announced the release to the public.
"Our main focus was to make it as easy, effective and affordable as possible to millions of home owners around the country who are looking for high-performance stainless steel sinks at affordable prices – without high shipping costs," smiles owner and director of Avalon Sinks.
Stainless steel sinks are a huge part of the American daily life and are the number one choice when remodeling either an entire kitchen or replacing the counter tops. There is no doubt that the center of activity around any home is the kitchen; is the one place everyone loves to spend time in picking out their snacks, cooking, doing homework, watching the morning news as they have their first cup of coffee.
Popularity for these types of kitchen sinks grew with the natural stone industry between 2000 and 2008.
"The combination of the granite countertops and the stainless steel undermount sinks was an instant success, especially for high-end kitchens. What has made this combination immortal is that both granite and stainless steel sinks have become a commodity thus giving the consumer the ultimate advantage of price and quality; they are the ones who benefit the most, and we are keen on this fact," says a sales specialist at Avalon.
Avalon Sinks is a collection of high performance sinks, manufactured from premium quality grade T304 stainless steel which will never rust or oxidize and virtually maintenance free. Each sink is individually welded and polished, (never pressed) to ensure there are no stress points in the bowl. You can reach them by calling 877-458-8282
###