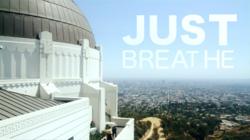 Los Angeles, CA (PRWEB) September 18, 2012
NewFilmmakers On Location The Los Angeles Video Project announces the final selections for the "What is Your LA?" program.
Finalists' films will be screened at the newly redesigned AT&T Center in Los Angeles on October 20th, 2012 during a red carpet premiere event presented by NewFilmmakers LA Film Festival, and sponsored by the Los Angeles Tourism and Convention Board, and LA Weekly. The event will include press and networking opportunities, a spectacular reception, after-party, and a celebrity judging panel.
The program is directly aligned with two of LA's top three industries, the travel and tourism industry and the film industry. Tourists who come to California don't come to LA because of the cheese; they come to Los Angeles because of movies and because of Hollywood. This is, after all, home of the Grauman's Chinese Theater, Disneyland, Universal Studios, the Hollywood Walk of Fame, and the LA Film Festival.
In its second year, On Location will feature remarkable, Los Angeles-inspired videos created by established industry professionals, artists and students from around the globe. The competition has enlisted these filmmakers to act as ambassadors for the city. On Location seeks narrative, documentary, montage, experimental, commercial, animated, or new media short videos depicting these city dwellers truer senses of Los Angeles. The video which best showcases and promotes Los Angeles will win the Grand Prize, a production prize package valued at $25,000 from Equilibrium Entertainment, and $1,000 cash along with added perks from Film LA, Mole-Richardson Co. and more.
During the premiere event on October 20th winners and finalists will have their films viewed by important members of the Los Angeles community including Steven J. Wolfe, Producer of the hit film '500 Days of Summer' and Los Angeles City Councilmembers Tom LaBonge, Jan Perry and Paul Krekorian.
The On Location host venue for 2012 is AT&T Center, located just minutes away from the dazzling LA Live, Staples Center, and the LA Convention Center. The AT&T Center boasts some of the world's most modern and prolific architecture, and breath-taking views of Downtown Los Angeles that are destined to give competition winners and spectators a true Los Angeles premiere experience.
AT&T Center has played host to many high profile entertainment related events, such as the premiere of "House of Lies" featuring John Lawson, Ben Swartz, Don Cheadle, and Kristen Bell, and Spike Lee's "Passing Strange: the movie" during the 2009 Downtown LA Film Festival.
Tickets for On Location The Los Angeles Video Project are available starting September 13th. For more information, or to purchase tickets, please visit http://www.nfmla.org/onlocation
Below is the selected lineup of films screening at the premiere event on October 20th 2012:
I Am LA
Director Bryce Dicristofalo
LA is personified by a voice that tells a story of the wonders of this great city.
Destination Los Angeles
Director Brandon Valiente
A guy and a girl separately tour Los Angeles landmarks on their first visit and meet at the Griffith Park Observatory where they fall in love.
LA Moments
Director Michael Malagon
This video exposes you to various moments happening around Los Angeles.
Goodbye, I Love You
Director Hernan Cazares
Best friends Alan and Marian are sitting in a diner in the wake of her departure. As they reminisce about times past, Alan is debating weather to tell her a secret or not.
Sarah
Director Leor Baum
A young woman searches the city for an old dream.
How to Live in LA
Director Cameron Sperling
An old fashion 'how to' guide showing little Jimmy how to make it in LA.
HELLO LA
Director Kiana Wilson
A look into the life of three performers those talents blossom in the city that gives life to their ultimate LA dream.
LA NOIR
Director Felix Martiz
Los Angeles has become a city of night, where the sun doesn't shine anymore. Our protagonist searches for daylight in hopes to smile again.
I Love LA
Director Steven Biton and Julius Hudson
Exploring the pleasures of culture, style, entertainment, and excellence found in Los Angeles.
I Heart Los Angeles
Director Chanel Eakin and Dave Groseclose
Why do you love Los Angeles? We asked real people living in LA to tell us.
An LA Story
Director Jeffrey Sun
Two friends visit LA and experience the unbelievable adventure of a lifetime.
Dream of a Resident Tourist
Director Shahriar Rahman
A lifelong tourist of Los Angeles, who also happens to be one of its residents, reflects with awe at his home city's harmony with nature.
Liefs (With Love)
Director Beri Shalmashi
Two immigrants in Los Angeles write letters home.
Within the City Limitless
Director Carolfrances Likins
When children express to their parents the desire to travel the world, these working-class parents decide to give them the next best thing: a global tour of LA through the many ethnic communities here.
Nightfall
Director Colin Rich
'Nightfall' is a three minute tour of light through the City of Angels.
So What's the Plan for Tonight?
Director Daniel Zafran
Three friends in different parts of the city try to communicate the night's plans to each other.
LA-Highlighted
Director Sevag Mahserejian
A montage of footage filmed throughout Los Angeles accompanied with spoken word that highlights Los Angeles for what it truly is: an entire world condensed into one city.
Los Angeles: Find Yourself
Director Gregory J.M. Kasunich
A young woman drifts though the neighborhoods, buildings, streets, and memories that comprise the city of Los Angeles as she searches for herself and something more.
Scavenger
Director Ruddy Anthony Salazar
After returning from a trip Ruddy must travel throughout LA to complete his scavenger hunt.
LOS ANGELES
Director Carlos Florez
Imaginative skateboard guy falls in love with the city of Los Angeles, symbolized by a giant girl that is full of lights; she loves him back and illuminates his path so he can continue to explore the city.
Whatcha Wanna Do?
Director Tim Cardenas
A group of friends explore their options for a day of fun in beautiful Los Angeles!
LA Encounter
Director Amy Hung and Man Lin
LA Encounter paints a portrait of an extraordinary city located in the heart of southern California.
About NewFilmmakers Los Angeles
NewFilmmakers Los Angeles is a non-profit 501(c)3 providing the Los Angeles community of entertainment professionals and film goers with a steady, exciting line-up of monthly screening events. NewFilmmakers Los Angeles continues to provide a forum where filmmakers can be recognized for their contributions, host open audience discussions about their projects, and connect with industry professionals for insight on distribution, production, acquisition, and representation.
The NewFilmmakers Series began over thirteen years ago in New York at the famous Anthology Film Archives, founded by Lithuanian-born American filmmaker Jonas Mekas who has often been called "the godfather of American avant-garde cinema". Mekas works have been exhibited in museums and festivals across the globe. For more information, visit the official website of NewFilmmakers Los Angeles at http://www.newfilmmakersla.com.
About Los Angeles Tourism and Convention Board
Los Angeles Tourism and Convention Board is a private, non-profit business association whose primary mission is to market and promote Los Angeles as the premier site for meetings, conventions, and leisure travel. Though not part of city government, Los Angeles Tourism is recognized as the city's official tourism marketing organization. For more information, visit the official visitor information website of Los Angeles at http://www.discoverLosAngeles.com.