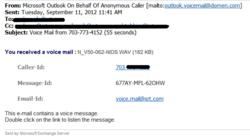 Arlington, VA (PRWEB) September 13, 2012
Better Business Bureau is advising consumers to keep a careful eye on your email this week! Fake "visual voicemail" emails are making the rounds. These emails appear to contain a new voicemail message, but click the attachment and you'll end up at a scam website.
How the Scam Works:
The emails appear to come from Microsoft Outlook on "Behalf of an Anonymous Caller," but the messages reference a variety of URLs and phone numbers. Of the cases we've seen, employees are receiving emails that contain an "Email ID" (see screen shot) that appears to be from an internal company email address. For example, an employee at business ABC would receive a message citing email ID "voice.mail@ABC.com."
However, the one thing certain about scams is that they will change. Watch out for new variations on the theme. For example, we have seen multiple emails with a fake voicemail from a 703 (Northern Virginia) area code and from BBB.org email addresses. We've also seen one that's a "fax" rather than a "voicemail." But scammers are likely to change this up.
Don't Click the Attachment:
The email attachment appears to be a .wav audio file, but it's really an HTML link that redirects recipients to a malicious website. The destination website may download malware to scan for banking and other sensitive information on your computer.
For More Information:
To learn about the various types of scams, go to http://www.bbb.org/scam. Sign up for BBB Scam Alerts for breaking news on new scams.
ABOUT BBB:
For 100 years, Better Business Bureau has been helping consumers find businesses, brands and charities they can trust. In 2011, consumers turned to BBB more than 100 million times for Business Reviews on more than 4 million companies and Charity Reports on 11,000 charities, all available for free at http://www.bbb.org. The Council of Better Business Bureaus is the umbrella organization for 115 local, independent BBBs across the United States and Canada, as well as home to its national programs on dispute resolution and industry self-regulation.