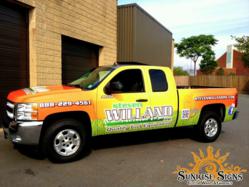 A company would need to spend $130,000 in traditional advertising dollars to obtain the same effect of a $3,500 vehicle wrap. That's quite a difference in today's challenging economy.
Philadelphia, PA (PRWEB) September 13, 2012
Today, Sunrise Signs released their car wrapping design tips for all business owners, including how-tos for franchise and fleet branding. With summer just about over, Sunrise Signs is offering fleet consultations and design tips for your entire car wrapping needs.
President, Adam Sokoloff, believes businesses need to take a look at their remaining advertising budget for the 4th quarter of 2012 and discover the most effective ways to receive the biggest bang for their buck. Car wraps are very affordable while offering name brand recognition, and continuous 24/7 advertising. In fact, studies have shown that car wraps are more affordable and more effective compared to newspaper ads, TV or radio spots.
With many years of experience in the vehicle graphics and wrap industry, Sokoloff also expressed that fleet vehicle graphics and wraps are a more affordable form of advertising and a smart way to spend precious ad dollars. Quoting 3M, a major tape and vinyl provider, "A company would need to spend $130,000 in traditional advertising dollars to obtain the same effect of a $3,500 vehicle wrap. That's quite a difference in today's challenging economy."
"We look at each vehicle as a unique canvas," said Sokoloff and noted "Our fleet vehicle graphics and wraps are designed, created and printed at our Philadelphia location but can be shipped nationwide to one of our 250 certified installers."
To help owners of businesses and franchises, as well as fleet managers, the design team at Sunrise shares the following tips in car wrapping design:
-Use Highly Contrasting Colors - "Two shades of red don't really work," says Sokoloff. That's why Sunrise Signs recommends taking advantage of contrasting colors. "Blacks and oranges work well but so do red and white." If the colors are too similar in the car wrap design, it will be hard to differentiate the message, logo or other information.
-Keeping It Simple – Above all, Sunrise Signs urges businesses, franchise and fleet owners that simple is best. "We tell our customers to think of their car wraps as a billboard on wheels. A visual impression is a quick one so it must be easy to understand, read and not be garbled with too much information." Often those who choose to list every product or service they sell within one car wrap isn't successful.
-Limit Images – "Images are great to include in car wraps," points out Sokoloff. "We try to find the very best images for the sides and back of the car wraps but we don't overdo. Too many images and the viewer's eye won't be able to target your brand and remember it; clean and crisp wrap designs are best."
-Full or Partial Car Wraps? – Although Sunrise Signs does produce many quality partial wraps, full car wraps offer a larger canvas, giving designers more room to make the most of the entire space on the wrap. "It's not hard to find great colors for a partial car wrap, but in a full car wrap design, we can make better use of the colors and designs we choose for the vehicle because we aren't worrying about the base vehicle color." Sokoloff also reminds those interested in car wraps, that they are "100 percent removable, protect manufacturer paint and last up to five years," making them perfect for fleet branding.
Sokoloff advises that business owners, fleet managers and franchise chains will benefit from the affordability of car wraps, especially if they revisit where to spend their remaining advertising dollars for the 4th quarter of 2012. By taking advantage of our car wrap design tips, brand identity and promotion can be just a fleet of car wraps away.
Sunrise Signs offers free consultations and quotes for businesses, franchises and fleets. Call them at 855-USA-WRAPS or visit their website at SunriseSigns.com. Be sure to check out their Success Stories for a pictorial on the car wraps they've done in the past. Sokoloff also encourages customers to download two free helpful kits from their website, a Vehicle Wrap Information Kit and their Car Wrap ROI Calculator to show how fast you'll see a return on the investment into car wraps.