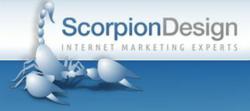 Valencia, CA (PRWEB) September 12, 2012
In 1997, the Web Marketing Association (WMA) was founded and has since been dedicated to honoring what they deem to be the "most effective and best web sites on the Internet today." This year is the 16th year for their annual WebAwards, which is the longest running annual website award competition. Scorpion Design Inc. was honored this year with the award for "Best Legal Website" for their work with Florida law firm Crary Buchanan. This award is the second in the tier of award levels – the first being the "Best of Show."
The second is the "Best Web Site of Industry" – which is given to one site per industry. This is considered to be a head-to-head competition among all websites in each industry, where only one can emerge victorious. In 2012, Scorpion Design's work with Crary Buchanan was honored as the very best in the legal industry. This was judged on seven different points of criteria, including design, innovation, content, technology, interactivity, copywriting and ease-of-use. The site was assigned to three or more judges who are deemed to be "experts" in the field who evaluate each website from the point of view as a target user. They then just the site on every point of criteria and award it a score between 0 and 10 – earning a total of 70 points total.
Scorpion Design is honored to have received this award and believe it is indicative of their commitment to always pushing the envelope on what is possible. Their company has made it their mission to provide above and beyond – always doing everything that they can to be on the absolute bleeding edge of design work, technology and SEO efforts. It is this attitude of never accepting anything less than perfection which has resulted in them achieving the "Best Legal Website" for their work on http://www.crarybuchanan.com.
Crary Buchanan was founded in 1927 and is one of the oldest law firms on the Treasure Coast in Florida. With over 80 years of in-depth experience, the lawyers at their firm are able to provide exceptional legal service in a variety of practice areas, including personal injury claims, estate planning, real estate and more. They are also honored to have several attorneys who have been Board Certified by the Florida Bar in their area of practice – showcasing their experienced knowledge and truly making them "specialists" in their field. To learn more about their firm and how they help people throughout Stuart, Florida, visit them online today.
Scorpion Design Inc. has been recognized nationwide for their work in the website design and Internet marketing field. Primarily working with attorneys and law firms, they have been able to help clients create breathtaking websites which are paired with SEO efforts that allow for them to increase their online presence. They are well-known for their philosophy as a client-centric company and always do everything that they can to go above and beyond the status quo. This has resulted in multiple awards for their committed team; for example, the WMA awarded them the Internet Advertising Award for Best Legal Website in 2011 for their work with Arnold & Itkin, LLP. They have also been honored on the Inc. 5000 list for two years in a row for their incredible company growth over a three year span. If you are interested in their company and how they can help you, simply visit them online at http://www.scorpiondesign.com.