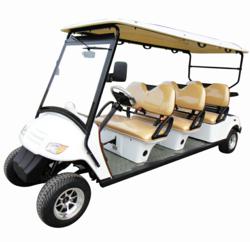 (PRWEB) September 13, 2012
Destin Wheels established themselves as a rental company earlier this year, but now they venture into the world of vehicle sales with the introduction of street-legal golf cart rentals and sales. The golf carts available are CitEcar brand, which are premium golf carts assembled in the USA. 2, 4, and 6 person models are available, and all offer an onboard electric charger, DOT seatbelts, wiper, and rearview mirrors. The carts are coming just in time for the holidays, when many residents, both yearly and seasonal, take advantage of golf carts for Halloween trick-or-treating, and easy transportation of family and friends on beach roads.
Destin Wheels is a subsidiary of parent company Disaster Relief Supply. Disaster Relief Supply is an established retailer and renter of power equipment, safety supplies, and emergency products, so the transition into tourist-driven sales and rentals was a smooth one given prior experience in the region. Destin Wheels is located on-site at the Disaster Relief Supply store, but has a separate informational website (with online booking made available through tripshock.com). Find more information on Destin Wheels and the products they offer at http://www.destinwheels.com.