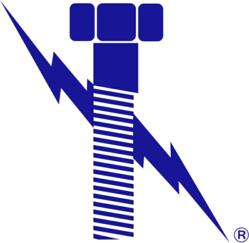 "WHAT A GREAT IDEA ! We have scanners at all of our locations, and it has absolutely saved us a lot of time and money...

Noel Maestri
Operations Mgr
NFA
Baton Rouge, Louisiana (PRWEB) September 18, 2012
Thunder Threads™, a division of Lightning Bolt & Supply Inc., has recently been awarded "Most Innovative Business 2012" by WBEC South for its newly released Customer Managed Inventory (CMI) scanner and corresponding "Bolt Bins" smart-phone app.
Thunder Threads™ has given its customers a simple and free way to "Take Control" of their inventoried hardware. Studies have found Thunder Threads™ CMI system saves their customers an average of 40-55% off traditional Vendor Managed Inventory (VMI). In addition to customers getting "exactly what they want", this system also eliminates commission based salesman from over-filling bins with unnecessary items and expenses.
More than a year was dedicated to the design of Thunder Threads™ CMI system and "Bolt Bins" app to make it extremely easy to use and to implement. For the sake of simplicity the scanners only have a single button. It should be noted that one of the most unique features to the CMI system is its ability to read ANY competitor's bar-code. Therefore, if a company has a multitude of fastener and fitting bins from another supplier, the customer would only need a Thunder Threads™ CMI scanner (or a smart-phone with our "Bolt Bins" app) to effortlessly create replenishment order regardless of their knowledge of the needed items.
How does it work?
#1 Scan the barcodes of the items that need replenishing
#2 Review the quote which will be automatically e-mailed
#3 Confirm the order by replying with a purchase order
Thunder Threads™ Customer Managed Inventory system has made the tedious and time consuming task of managing maintenance and OEM inventories effortless. Everyone knows that time is money, and Thunder Threads™ CMI system will make the reorder process extremely simple regardless of the users experience with scanners or knowledge of the inventory. In addition, by offering same day shipping and even a "blind label" service to distributors is among several reasons on why Thunder Threads™ has more than doubled its size in the past year. Distributors and re-sellers are welcome to contact Thunder Threads in for help in the set-up and maintenance of such "bolt bin" accounts. Recognizing the importance that responsive vendors have on supplying a positive experience for end users, Thunder Threads has partnered with many industrial distributors throughout North America to supply fasteners, fittings, and MRO supplies to a wide array of accounts. In addition to fasteners, other products in inventory include pipe fittings, electrical terminals, cutting tools, abrasives, fittings, fuses, cable ties, adhesives, sealants, tapes, chemicals, safety, paint, MRO supplies, and much more...
For more information about how you can obtain a free CMI scanner or "Bolt Bin" app download, email Wesley(at)thunderthreads(dot)com
Thunder Threads™ is also finalizing plans to building an additional warehouse and a second office building at its Baton Rouge headquarters. Also known throughout the fastener industry for stocking an immense inventory of exotic and hard to find alloy bolting, Thunder Threads™ ships internationally and is available 24/7. Core products include nuts, bolts, hex cap screws, washers, stud bolts,wind turbine metric fasteners, and custom/critical bolting.
Custom alloy fasteners that Thunder Threads™ specializes include Alloy-20 fasteners, Nitronic 60 fasteners, Monel fasteners, Hastelloy C-276 fasteners, Inconel Fasteners, A286 fasteners, and an extensive variety of stainless steel fasteners. Being that we're located in Baton Rouge, all of our exotic fasteners are domestically manufactured fasteners, thus are compliant to projects that are regulated by the Buy American Act.