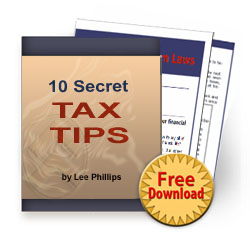 New taxes are the biggest threat to the middle class lifestyle, and without specific tax education and planning, the average middle class family will see a substantial loss in income next year
Siesta Key (PRWEB) September 12, 2012
"Above the line" and "below the line" accounting refers to tax calculations done above the last line on page one of IRS form 1040 or below the last line on page one of a 1040 form. Tax tips targeted at above the line calculations will lower a taxpayer's adjusted gross income. The last line on page one of an IRS form 1040 is the "adjusted gross income" line.
A new set of tax tips has been released from LegaLees Corporation targeted at reducing a taxpayer's adjusted gross income or "AGI." Lee Phillips, CEO of LegaLees Corporation, said, "These tax tips are unique, because they are targeted specifically at lowering adjusted gross income."
"Lowering adjusted gross income is more important than simply generating a standard tax deduction, because the AGI number controls lots of issues associated with a person's income taxes. For example, AGI determines the taxpayer's tax bracket, what exemptions they can take advantage of, whether or not they can contribute to a Roth IRA, and a dozen other issues," stated Hal Rosen, a noted Salt Lake City CPA and small business advisor.
A standard deduction on a tax return normally refers to a deduction such as the home interest deduction. A standard deduction is one that comes out below the line, which means it appears on page two of the IRS form 1040 and does not affect the taxpayer's adjusted gross income.
See a bunch of deductions here.
"The problem is, there aren't many practical things that an individual taxpayer can do to affect his or her adjusted gross income. A contribution to a standard IRA is about the only deduction that an individual can take advantage of and lower their AGI," said Rosen.
"For the average person, real estate investing or operating some sort of a small business are the best avenues they can use to affect their above the line numbers. A person doesn't need to have a corporation or an LLC to have a small business as far as the IRS is concerned. Just filing a Schedule C with a 1040 form means that there is a small business," said Phillips.
"The LegaLees tax tips are unique because they target middle class tax payers, and help them lower their adjusted gross income. That will help them maintain their lifestyle in light of the massive tax increases that are scheduled to take affect January 1, 2013," he said.
A number of taxes are scheduled to take affect January 1, 2013. The Bush Tax Cuts will expire, some of the health care tax increases will start, and a number of other taxes are already on the books to kick in next year. According to Fox News there will be at least five new taxes that will hit the middle class next year.
"New taxes are the biggest threat to the middle class lifestyle, and without specific tax education and planning, the average middle class family will see a substantial loss in income next year. That's why we have prepared out tax tips for them. These are practical tips that will make a difference," says Phillips.
To get the tax tips go to http://www.legalees.com/taxtips