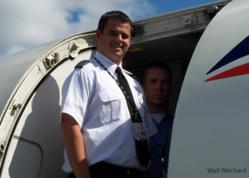 Lynchburg, Va. (PRWEB) September 12, 2012
The Liberty University School of Aeronautics recently reached an agreement with ExpressJet Airlines that will guarantee jobs for qualified graduates of the commercial aviation program.
The agreement, which was signed on Aug. 24, places Liberty University aeronautics graduates with the world's largest regional airline. The former Atlantic Southeast Airlines, which operated Delta Connection and United Express flights, recently acquired ExpressJet and kept the ExpressJet name for the newly merged company.
"This agreement attests to the quality of our program," said Gen. Dave Young, dean of the School of Aeronautics. "Potential students and their parents consistently ask, 'What are the opportunities for my student to be employed upon graduation?' Now we can answer, that if they complete all of the prerequisites and meet the required criteria, they have a job waiting for them."
Walt Reichard, a professor of aviation and retired airline captain with Atlantic Southeast, was instrumental in helping reach the agreement.
"Through the recent purchase of a Canadair Regional Jet Flight simulator and the initiation of our new Advanced Jet Training Program, the Liberty University School of Aeronautics is now eligible to be part of the (program)," Reichard said. "This program provides an excellent employment opportunity for our graduates."
Students can be accepted into the program following their sophomore year, as long as they have a minimum of 57 academic credit hours applicable toward a degree. They must meet a number of academic and aeronautical requirements, including a minimum of 60 credit hours in residence at the university, completing their degree with a minimum cumulative GPA of 2.75 (3.0 within the aeronautics major), being selected to instruct, full or part time at the university (or an ExpressJet approved flight training school) for a minimum of 18 months, and submitting letters of recommendation from the associate dean as well as the university director of flight operations. The agreement states that if the airline is not hiring at the time of graduation, successful candidates will be placed in a hiring pool.
The agreement with ExpressJet is another sign of the success and recruiting boon for the School of Aeronautics. Seven of the school's flight instructors (all of whom graduated from Liberty) have now been hired by airlines, and 100 percent of the graduates from the AMTS (aircraft mechanic) program have been employed.
Liberty University, located in Lynchburg, Va., is the world's largest Christian university. Nearly 100,000 students attend classes on its 6,800-acre residential campus and study in its thriving online education program.