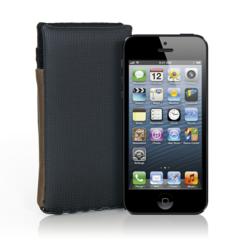 "I've learned that every technology user has different needs," remarked Gary Waterfield, company founder. "We offer five custom iPhone 5 Cases so customers may chose the best solution for their lifestyles."
San Francisco, CA (PRWEB) September 13, 2012
WaterField Designs, a leading San Francisco manufacturer of custom laptop sleeves, bags and cases for digital gear, introduces their five best iPhone 5 Cases—the iPhone Wallet, the Smart Case™, the Suede Jacket, the Hint and the Travel Case. Pre-order these custom-fitted iPhone 5 cases now; shipping begins September 28, 2012.
"What I've learned from making high-end cases and bags for over ten years," remarked Gary Waterfield, company founder, "is that every technology user has different needs. By offering five custom iPhone 5 Cases, we let customers chose solutions best for their individual lifestyles."
Naturally tanned, US-produced, supple black or brown leather
Front clear window for view and use of the Apple iPhone
Rigid, Ultrasuede®-lined divider separates iPhone from cash and cards
Internal pockets to hold bills, credit cards and receipts
Self-locking, quality, YKK® zipper to keep contents safe and secure
Available in custom-fitted size for the Apple iPhone 5
Unique, multi-layered padding system with a high-impact, rigid insert to protect screen.
Naturally tanned, distressed, brown leather flanks each side for an easy grip.
Protective Ultrasuede® scratch-free liner cleans iPhone 5 as it slides in and out.
Textured, water-resistant outer nylon material in six color options.
All internal stitching and thin design for a sleek and smooth look.
Three functional style variations offer carrying options: Slip-style for stashing in a pocket or bag; Flap-style for attaching to a bag or backpack strap for quick access; and Clip-style for clipping to a belt or bag.
iPhone 5 Suede Jacket™

Ultra-thin, iPhone 5 protection
Snug-fitting case made from 100% Ultrasuede® with stretch memory
Scratch-free protection from bumps and scrapes
Doubles as a screen cleaner
Bottom loop for helping slide iPhone from the case
Optional strong, stretch-mesh rear pocket for storing earbuds, credit cards or cash.
Available in black or two animal print choices.
iPhone 5 Hint™

Naturally tanned, U.S-produced, supple black or brown, slim leather iPhone sleeve
Front clear window for view and use of Apple iPhone
Stretchy back pocket to hold cash, credit cards and/or earbuds
Protective, Ultrasuede®, scratch-free liner can be used to help clean iPhone
Available in custom-fitted size for the Apple iPhone 5
Designed to keep the iPhone and its accessories all together and tangle-free
Custom-sized, padded interior compartments
Self-locking YKK zippers
Three sizes maintain thin and compact shape, even when fully packed
Availability & Pricing
iPhone 5 cases available for pre-order now. Individual ship dates listed below.
The iPhone Wallet—Price: $39. Black or brown leather. Ships September 28.
The iPhone Smart Case—Prices: Slip $39, Flap $45 and Clip $45. Colors: black, copper, pine, green, flame or pearl. Ships October 5.
The iPhone Suede Jacket—Prices: Black $10. With pocket $14. Animal Prints $12. With pocket $16. Available in black, zebra or cheetah. Ships September 28.
The iPhone Hint™—Price: $25. Black or brown leather. Ships October 3.
About WaterField Designs
WaterField Designs manufactures custom-fitted, high-quality cases and bags for a full-range of laptop computers, cameras, and other digital gear. All products are manufactured to exacting standards entirely in San Francisco. More information at ssbags.com About Us.