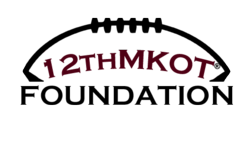 College Station, Texas (PRWEB) September 13, 2012
Former Texas A&M University Coach Jackie Sherrill is set to host the 12th Man Kickoff Team Foundation's (12thMKOT®) Annual Scholarship Dinner on October 19, 2012 in College Station, Texas. The fourth annual event will raise funds for the 12th Man Kickoff Team Foundation, the Emory Bellard ALS Clinic in Round Rock and most importantly, the Rise School in memory of Johnny Stallings.
Created in 2007, the 12thMKOT® Foundation is a non-profit organization that provides scholarships to Texas A&M University students. The Foundation's members make charitable appearances across the state, touching A&M clubs, children in hospitals and other community activities where people need a smiling a face and a helping hand.
"This event really is what the Foundation's all about: Aggies helping Aggies in need," says Foundation President, Warren Barhorst. "Pulling together to celebrate and help others; it truly is what this University and this Foundation stands for."
At the time of this release, Rick Perry '71- The Governor of Texas is scheduled to be the Guest Speaker along with Texas A&M Regent, Phil Adams '70, and Dr. R. Bowen Loftin '71, President of Texas A&M University.
The emcee is Paul Finebaum, legendary sports reporter in his own right.
It is a real honor to have Coach Gene Stallings as our honoree for the 2012 Annual Dinner. Coach Stallings storied history with A&M started as a Junction Boy under the famed Paul "Bear" Bryant and later was an assistant coach for Coach Bryant at Alabama before returning to his Alma Mater, Texas A&M in 1965.. He went on to Coach the Aggies 1965-1971 then spent 14 seasons with the Dallas Cowboys under Tom Landry with one super bowl win and went on to be head coach of the St. Louis /Arizona Cardinals 1986-1989. From there he went back to Alabama as head coach and won a NCAA national championship in '92. Coach Stallings was the SEC Coach of the Year in 1992 and inducted into the College Football Hall of Fame in 2010.
Tables and Sponsorships are available. Sponsorship levels include: 12thMan ($12,000), Bonfire ($10,000), Kyle Field ($7,500), Scholarship ($5,000),Reveille ($2,250), Wrecking Crew ($1,200) and a VIP single ticket for $ 250.00.. Sponsors will receive recognition on Internet site, Print media and throughout the event. (Print media subject to press times). To be a sponsor or reserve a table, please contact Andrea Dry '94 at 361-212-4101. General admission tickets are available for $100 each and must be purchased online at http://www.12thmkotdinner.org. For more information please visit the Foundation's website at http://www.12thMKOT.org.