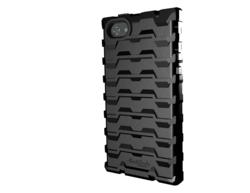 We doubled the investment and have product ready for market. Now that the fit has been verified, iPhone 5 cases are ready to ship
San Francisco, CA (PRWEB) September 13, 2012
Hard Candy Cases ready at launch with a new and improved iPhone 5 case series, the ShockDrop. Following Apples big announcement this Wednesday September 12, ShockDrop iPhone 5 cases are available for order online at http://www.HardCandyCases.com.
Hard Candy Cases' founder, Tim Hickman, took a calculated risk and designed and pre-produced iPhone 5 cases based on leaked designs. That risk paid off and they will be one of the first companies to provide consumers with case protection in hand for their new iPhones.
"We made a bet the last time the iPhone 5 rumors were circulating (October, 2011) and we lost. This isn't a failure, but simply part of this crazy Apple accessory business," said Tim Hickman. "This time we doubled the investment and have product ready for market. Now that the fit has been verified, iPhone 5 cases are ready to ship from Hong Kong."
Hard Candy's ShockDrop iPhone 5 case, is an entirely new design with superior protection, for the entirely new iPhone. The most ruggedized cases start and end with the protection and the fit, and Hard Candy takes it to a whole new level with clever, but simple additions. Features include:
Protection Where You Want It – The ShockDrop for the iPhone 5 boasts 10mm of shock absorbing silicon protection at the corners, which thins out to 3.5mms to keep bulk down.
Semi-Rigid Screen Protector – The semi-rigid film screen protector can take a beating against keys, rocks, and more. And, the touch sensitivity isn't affected at all!
Molded-in Volume Up and Down Indications – The ShockDrop's molden-in volume indications are placed on top where you can easily see and feel them.
Rip Proof Port Covers – ShockDrop screen covers are thick so they stick, fit, and don't rip.
No Slip Grip Texture – Rain or shine, the ShockDrop's exceptional grip texture will offer you security in carrying your new device.
Hard Candy's ShockDrop case for the iPhone 5 retails for $39.95 and are available for order online at http://www.hardcandycases.com.