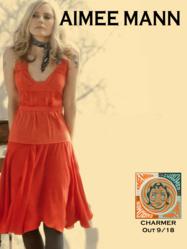 "The first song I wrote for the album was called 'Charmer,' so that's kind of what started it," she says.
Napa, CA (PRWEB) September 14, 2012
Interested in the full range of human faults, foibles, dysfunction, and self-delusion? You could spend your evening re-reading the DSM-IV Manual. Or you could opt to spend some time with an even more entertaining catalog of idiosyncracies: Charmer, the latest album from Aimee Mann, as fine a chronicler of the human comedy as popular music has produced.
Names have been obscured to protect the guilty, but recognize yourself in these short narratives, along with the fellow travelers who have conned, enabled, victimized, or (yes) charmed individuals.
Mann has the presence of mind to write songs about narcissists, which is a little different from the 90 percent of rock songs that are about being a narcissist. "The first song I wrote for the album was called 'Charmer,' so that's kind of what started it," she says. "And there are obviously songs that aren't really on that topic, but it was a thing that I kept coming back to, because I do think people who are super-charming are really interesting. And I see how charm is on a continuum that goes all the way from people who can talk you out of anything to people who are manipulative to people who are almost a little sinister. They're usually people who you really like being around in the beginning, because they're really good at creating an impression that perhaps is tailor-made for you, and that's very seductive."
Tickets for Aimee Mann plus The Field Report are $35. They are on sale now and can be purchased through the theatre website at http://www.uptowntheatrenapa.com, at Ticketmaster (http://www.ticketmaster.com) or at the theatre box office (please call 707.259.0123 ext. 6 for hours). To find out more, please visit http://www.uptowntheatrenapa.com.
The Uptown Theatre Napa is downtown's ultimate destination for live concerts. Nestled in the famed West End district, this stunningly restored art deco masterpiece showcases only the finest acts, featuring music, comedy and more. An historic landmark, the Uptown offers a phenomenal, intimate live show experience, with excellent site lines and world class sound and lighting. As concert venues go, this is the place to be. Every seat is a great seat so buy concert tickets now!