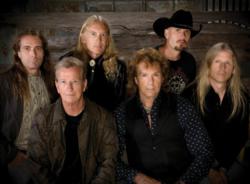 Napa, Ca (PRWEB) September 15, 2012
For 40 years, the Southern Rock legends celebrated triumphs, endured tragedies and survived legal nightmares to remain one of the most influential and best-loved bands of the genre. The band's first three albums The Outlaws, Lady In Waiting and Hurry Sundown – featuring such rock radio favorites as "There Goes Another Love Song", "Green Grass & High Tides", "Knoxville Girl" and "Freeborn Man" – would become worldwide gold and platinum landmarks of the Southern Rock era.
Formed in Tampa in 1972, The Outlaws - known for their triple-guitar rock attack and three-part country harmonies – became one of the first acts signed by Clive Davis to his then-fledgling Arista Records. The Outlaws earned a formidable reputation as an incendiary live act touring with friends The Allman Brothers, Lynyrd Skynyrd, and The Marshall Tucker Band as well as The Doobie Brothers, The Who, Eagles and The Rolling Stones.
It's About Pride is the new album from The Outlaws, a record 4 years in the making. For original Outlaws vocalist/guitarist Henry Paul, it's a hard-fought revival whose success can be measured in old fans and new music. The Outlaws' live shows, with more than 150 per year are blazing 2+ hour tributes to the band's rich history and fiery rebirth. Classic tracks and fan favorites from the first three albums share the spotlight with songs from the new disc that are already being embraced by audiences.
Now The Outlaws return with new music, new focus and an uncompromising new mission: It's about a band of brothers bound together by history, harmony and the road. It's about a group that respects its own legacy while refusing to be defined by its past. For The Outlaws, it's still about the music. And now more than ever, it's about pride.
Tickets for The Outlaws plus Lansdale Station are $35. They are on sale now and can be purchased through the theatre website at http://www.uptowntheatrenapa.com, at Ticketmaster (http://www.ticketmaster.com) or at the theatre box office (please call 707.259.0123 ext. 6 for hours). To find out more, please visit http://www.uptowntheatrenapa.com.
The Uptown Theatre Napa is downtown's ultimate destination for live concerts. Nestled in the famed West End district, this stunningly restored art deco masterpiece showcases only the finest acts, featuring music, comedy and more. An historic landmark, the Uptown offers a phenomenal, intimate live show experience, with excellent site lines and world class sound and lighting. As concert venues go, this is the place to be. Every seat is a great seat so buy concert tickets now!