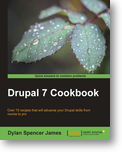 Birmingham, UK (PRWEB) September 13, 2012
Packt Publishing is pleased to announce Drupal 7 Cookbook, a new book and ebook packed with step by step instructions for installing, setting up, and managing Drupal sites. Written by Dylan James, an open source developer, this book will help with creating new content types and use them to create and publish content using Views, Blocks, and Panels.
Drupal 7 is a modern Content Management System famed for its flexibility and power. The user can easily create custom functionality that would otherwise have to be purchased in many of the other leading CMSs. This book is filled with recipes to help the reader to do more with Drupal and improve the required skills.
The book begins with installing and configuring Drupal, creating and publishing content and working with Blocks. It moves on to explaining custom content types and using views to create custom lists, grids, and tables and ends with managing users and running Drupal.
The Drupal 7 Cookbook, book provides guidance to the reader to organize the site with Blocks and Menu Blocks, work with Views and Custom Content Types (CCK), maintain, optimize and back up Drupal site. It will also help the reader personalize the site with a document library, an image slideshow, or a custom Drupal 7 theme
This book is for people who are familiar with the concepts of web development and CMS. Previous experience of working with Drupal will enhance the readers knowledge and give ideas for fun new things to do with Drupal.
The book is out now and available from Packt in print and popular eBook formats. To read more about it and download a sample chapter, please visit the Packt web-page