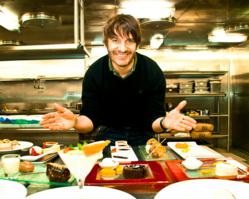 (PRWEB UK) 15 September 2012
Lanlard, who has previously made cakes for Her Majesty the Queen Mother, David Beckham and Claudia Schiffer, amongst others, made a bespoke cake for P&O Cruises celebrations of 175 years of heritage, which was cut by HRH The Princess Royal on July 3.
Lanlard will give passengers an insight into some of his techniques and designs in baking, patisserie, chocolate and desserts, and will travel on two cruises in 2013:
•A 14 night Western Mediterranean on board Azura (A310N), departing April 27, joining Atul Kochhar and Olly Smith on board. Vantage Fares from £1,069pp
•A 28 night Caribbean no fly cruise on board Adonia (D318), departing November, joining Marco Pierre White on board. Vantage Fares from £2,439pp
Whilst on board, Lanlard will be participating in a theatre Q&A with the cruise director, a book signing and photo session, demonstrations in the theatre and a private masterclass for 10 people (a charge will apply - on board Azura only).
Lanlard said: "My passion is for making cake that tastes as good as it looks, taking my inspiration from the many parts of the world I have travelled to. I have been on many cruises and love them, it's a great way to travel and see different places in a short time. I am so excited to be working with the team at P&O Cruises, I love sharing my passion for my work, meeting new people and of course I love being on the ships, come and join me!"
P&O Cruises also offer a range of other dining experiences, which can be seen here. For more information about any of the above or to book, call P&O Cruises on 0843 374 0111 or visit http://www.pocruises.co.uk
Ends
About P&O Cruises
The best known name in British cruising, P&O Cruises is regularly voted Britain's favourite cruise line and can trace its roots back to 1837. 2012 marks the 175th anniversary of when the Peninsular Steam Navigation Company was awarded the lucrative Admiralty contract to carry mail to the Iberian Peninsula and beyond. Not long afterwards the concept of cruising was born and since then has evolved into a popular holiday choice. Today, as trusted cruise experts, P&O Cruises has a fleet of seven ships offering holidays tailored to British tastes combining genuine service, a sense of occasion and attention to detail, ensuring passengers have the holiday of a lifetime, every time. On July 3, 2012, P&O Cruises celebrated 175 years of heritage with all seven ships berthed in Southampton for the first time. Ushering in an exciting new era for P&O Cruises, a new 141,000 ton as yet unnamed ship will be added to the fleet in spring 2015.
For further press information please contact:
Michele Andjel, michele.andjel(at)carnivalukgroup(dot)com 023 8065 6653 / 07730 732 072
Kate Rist, kate.rist(at)pocruises(dot)com 023 8065 6652 / 07730 732 065
Catherine Alabaster, catherine.alabaster(at)carnivalukgroup(dot)com 023 8065 6650