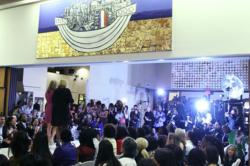 Finally, the true Power of Style is presented in the finale event - the 17th International Couture Collections featuring designers from across the globe
Washington, DC (PRWEB) September 15, 2012
In just a few days, DC Fashion Week kicks off season seventeen, making the nation's capital a center of a different kind of "global warming". Designers from across the world will showcase the hottest trends with over seven days of events. This fall welcomes new comers Aphropolitan, Jessiica Howell Fashions, Slanovskyi Presented by Kate Linde Bridal, Sveltlana Horvat, Violet Fernandes, and Heritage Collection. They will be joined by DC Fashion Week veterans Heydari, Corjor International, Andrew Nowell, Anjoreen, House of Jola, Firefly Designs Africa * Asia, and Designersberg. Together the week promises to be full of fashionably diverse collections highlighting the cultural convergence DC Fashion Week audiences have come to expect and enjoy.
Be sure to check out the preview of what's to come on Saturday, September 15th at the H Street Festival, an annual street fair showcasing the vibrant H Street NE corridor. For several years now, this event has featured sizzling samples from designers presenting in the week to follow.
Seventeen starts green! The official kick-off event is Monday, September 17th at the IFC (a World Bank Member). Once again DC Fashion Week (DCFW) partners with Inova Health System's Going Green Initiative to feature the latest in eco fashion and bring together both established designers and emerging talents. Tuesday, September 18th DCFW founder Ean Williams combines forces with top menswear designer Andrew Nowell to present A/C DC - an exclusive sneak peak not to be missed. This invitation-only showcase mingles the rich historic setting of the Washington Club's headquarters at the Patterson Madison with red carpet glamour and style from these well-known labels.
The middle of the week will mix it up as DC Fashion Week has joined over 40 organizations in the new Art4All DC collaborative effort to highlight music, theater, dance, fine arts, fashion and other forms of artistic expressions found across each quadrant of DC during September and October. Be sure to stay tuned for DC Fashion Week in the Streets on September 19th…What isn't new is the traditional Fashion Industry Networking Party this season at Dirty Bar in Dupont Circle. It is widely touted as the largest gathering of area fashionistas, including designers, models, photographers, life style bloggers, media, retail, agencies, and more! Catch the featured fashion accessory and swimsuit show while you network!
Who doesn't love the start of the weekend? On Friday, September 21st start yours off with a little South Asian flair. New this season, DC Fashion Week will feature the latest fashion trends from South Asia. Guest designer collections from India will awaken the senses at Indique Heights in Friendship Heights. Saturday, the 22nd will keep your senses engaged with the sights and sounds of emerging designers and indie musical guests performing at the Washington Post Conference Center. The M.E.D.I.A. Showcase (Metropolitan Emerging Designers & Indie Artists) includes top fashion designers from local metro area colleges & universities combined with rising regional artists performing live.
Finally, the true Power of Style is presented in the finale event - the 17th International Couture Collections featuring designers from across the globe. In the elegant Embassy of France La Maison Francaise, the latest from India, Thailand, Nigeria, Serbia, Ghana, Iran, the US, and more will grace the runway with over 100 beautifully diverse models, fashionable vendors, and the area's hottest stylists.
###
About DC Fashion Week: DC Fashion Week is considered one of the fastest growing international fashion week exhibits in the world and is held twice a year in February and September. DC Fashion Week now reaches an audience of more than 10 million per fashion week. Please visit http://www.dcfashionweek.org for all the updated news, events, and to purchase your tickets.