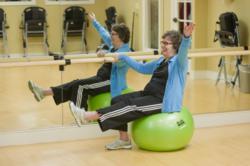 Active Aging Week provides a wonderful opportunity for us to celebrate life and explore new experiences with our residents and neighbors. Erin Donaldson, Executive Director, Wyndemere
Wheaton, IL (PRWEB) September 14, 2012
Older adults, their families and friends in the community are invited to join Wyndemere Senior Living Community in a series of activities to encourage lifelong body and mind fitness during 2012 Active Aging Week, beginning Monday, September 24. Active Aging Week is a national celebration encouraging senior citizens to engage regularly in mind and body enrichment.This year's activities at Wyndemere include free fitness classes daily and the community's first Wellness Conference, featuring professional and personal insights on achieving the key touchstones of a full and productive life during the senior years.
"The residents of Wyndemere are naturally active and engaged in life, and we want to share our secrets for successful active aging with our community," says Erin Donaldson, executive director, Wyndemere Senior Living Community. "Active Aging Week provides a wonderful opportunity for us to celebrate life and explore new experiences with our residents and neighbors."
Wyndemere's Wellness Conference, scheduled for Tuesday morning, Sept. 25 (10:15-11:45 a.m.), features a keynote presentation on taking charge of your health, "Live Well, Be Well" by Donna Copeland Hill, Community Liaison for DuPage County, Agency on Aging for Northeastern Illinois. In addition, the eight dimensions of wellness that enable individuals to enjoy life with optimism and confidence as they age, will be explored by speakers including: Ruth Reyna, National Institute for Fitness and Sport and manager of Wyndemere's Fitness Center; Chaplain Diane Herman; Beth Grigg, RN, senior health resource nurse, Wyndemere; and Kelly Berger, program director, Wyndemere. The conference is open to the community, at no charge; however, registration is required as seating is limited. To reserve your spot, please call Ellen Rossi at 630-681-4143, or send an email to rossiellen(at)wyndemerelcs(dot)com
Wheaton's Mayor Michael Gresk will officially kick off Active Aging Week at Wyndemere, Monday, Sept. 24 at 10 a.m. Closing ceremonies at the senior living community will feature a 'senior flash mob' of Wyndemere residents on Friday, Sept. 28.
Fitness classes, including Tai Chi, stress reduction and functional fitness, are open to the community free of charge during Active Aging Week. For a complete schedule and to register, please call the Fitness Office at 630-681-4502.
"In today's world, older adults have longer lifespans and can choose lifestyles that support better health—physical and mental. Their wisdom and experience are needed by their communities and their own well-being is stimulated by choosing meaningful pursuits," observes Colin Milner, CEO of International Council on Active Aging. "Active Aging Week is the annual event that reinforces the tremendous opportunities available to the aging population."
About Active Aging Week
Active Aging Week is an annual event held the last full week of September (prior to October 1, International Day of Older Persons). The week was initiated by the International Council of Active Aging in 2001 to give as many older adults as possible the means to experience activities and exercise in a safe, friendly and fun atmosphere. During the week, host organizations provide a variety of free activities, such as classes, educational seminars, access to fitness facilities, health fairs and community walks. For more information, http://www.icaa.cc/aaw.htm
About Wyndemere
Wyndemere Senior Living Community, located in Wheaton, Ill, has served more than 1800 seniors in independent living, assisted living, skilled nursing and the rehabilitation center for 20 years. Wyndemere is owned and managed by Life Care Services. For more information about retirement living and the Wyndemere Community, visit http://www.wyndemerelcs.com or call Wyndemere at (630) 690-8889. To see how Wyndemere's residents are Engaged in Life visit our YouTube channel at http://www.youtube.com/wyndemerelcs