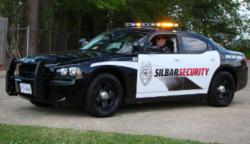 Norfolk, Virginia (PRWEB) September 18, 2012
The security service professionals at Silbar Security Corporation are proud to announce new additions to their security patrol solutions. Added to their extensive fleet of patrol cars and equipment are brand new Dodge Chargers; cutting edge vehicles that are built to perfectly meet the security guards need for reliability and power.
An independent security service company works security and patrol services for multiple businesses and premises in any given day. The demands of security services are varied; some jobs require a little more liability coverage like cameras and recording equipment, while some require armed patrolmen. Security patrol professionals require the best equipment possible to keep up with their assignments and ensure their safety.
For years, the iconic automobile of law enforcement and security has been the Ford Crown Victoria. Since the early 90s, the Crown Victoria Police Interceptor has been a standard in reliability and performance. Outfitted with several engineering feats that allow the car to operate at high RPMs and output for extended periods of time, the Interceptor was known for its ability to literally wear down a suspect's car. However, last year Ford discontinued their production of the old standard in favor of pushing a new model of the Ford Taurus.
Rather than compromise the reliable security services that was afforded by the Crown Victoria model, Silbar Security elected to equip their security guards with Dodge Chargers. Considered to be a classic model of muscle car, the Dodge Charger is famous for its high performance ratings and increased fuel efficiency. Popularized by movies and television ("The General Lee" of Dukes of Hazzard fame was a 1969 model Dodge Charger), the Charger lagged in production briefly due to market sway toward more fuel efficient models. It is when the fuel efficiency no longer held back performance that the Dodge Charger came back into production; interest from the market and security industry shortly followed.
Silbar Security Corporation is excited to take advantage of the performance and reliability afforded by their new fleet of Dodge Chargers. For independent security services, there is simply no other vehicle that can match the Charger. The new vehicles are currently deployed, ready to meet any security patrol needs of Silbar's customers.
Silbar Security is a certified minority and woman owned small business that serves Virginia, North Carolina, and Maryland with a variety of adaptable and effective security solutions. To find more information about the new Dodge Charger fleet, or to inquire about security services, please visit Silbar's website, or contact: