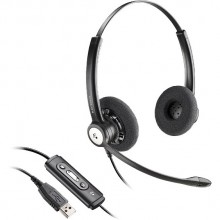 I know the C620-M will be another hit. The features make it perfect for the heavy business user
Milwaukee, WI (PRWEB) September 18, 2012
For professionals who spend long hours on the phone, a high quality headset is critical for successful hands-free communication. Telcom & Data, a leader in business phone systems, is proud to introduce the Plantronics C620-M headset for all-day comfort and productivity. The unit is perfect for sales calls, customer service calls, conference calls, and webinars.
The Plantronics C620-M has many outstanding features. An adjustable headband and soft ear cushions provide exceptional wearing comfort. The headset has a dynamic EQ stereo that adjusts automatically for voice and multimedia use. A noise cancelling microphone delivers superior call clarity. The headset also boasts Enhanced Digital Signal Processing (DSP) to provide a more natural sounding voice and SoundGuard technology provides protection against audio spikes. The unit has been optimized for Microsoft Office Communicator 2007 and Microsoft Lync 2010.
When Ricardo Trinidad, President of Telcom & Data was asked about the headset, he said, "We just added a number of Plantronics headsets to our product line and they immediately started selling. I know the C620-M will be another hit. The features make it perfect for the heavy business user."
For more information about the C620-M and other Plantronics Headsets, visit Telcom & Data's website or call 1-800-335-0229.
About Telcom & Data: Since 1996 Telcom & Data has been providing thousands of telecommunications solutions to organizations around the world to measurably improve communications. The company is a leader in business phone systems including VoIP phones, conference phones, and headsets. Telcom & Data maintains a network of over 1500 technicians with locations in Chicago, Milwaukee, and Miami.
About Plantronics: Plantronics offers one of the industry's most complete families of corded and wireless products for unified communications. Widely recognized for their sound quality, reliability, and comfort, Plantronics' audio solutions help companies extend the benefits of IP communications.