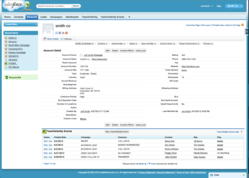 "Enabling performance improvement to be driven from right inside Salesforce is a natural." -- Tom Snyder, EVP of Sales
Chevy Chase, MD (PRWEB) September 14, 2012
TeamVisibility, the company that lets sales leaders improve their teams' performance in just minutes a day, announced today that it has deepened its integration with Salesforce.com. Customers using both TeamVisibility and Salesforce.com now can track and assess all critical data about their customer interactions in one place.
TeamVisibility captures seller-customer interactions and turns them into "game tape." Just as professional athletes and performers constantly study tape of their performances, TeamVisibility makes it easy for salespeople and their managers to identify the most important moments of the day, celebrate what went well, address what didn't go well and share best practices with the rest of the team.
"There is a tectonic shift in sales management from episodic training to continuous improvement," said Tom Snyder, co-Founder and EVP of Sales at TeamVisibility. "Enabling performance improvement to be driven from right inside Salesforce is a natural."
Once TeamVisibility is enabled inside Salesforce.com, sellers and managers can access their TeamVisibility-captured data from any Account, Lead, Opportunity, Contact, or Case page. This accessibility makes it easy to:

Review critical interactions prior to the next call with a customer;
Hand off accounts with complete understanding of prior discussions;
Use real "game tape" to understand account status as part of pipeline reviews;
Quickly provide feedback and share best practices with the team.
"The integration of TeamVisibility game film into SFDC is game changing. In one place, it provides us everything we need to drive sales performance," said Steve Richard, co-Founder of Vorsight.
In addition, with the new TeamVisibility tab inside Salesforce.com, customers can fully access all of the capabilities of TeamVisibility without ever leaving Salesforce.com.
If you are interested in learning more about how TeamVisibility can help you drive sustainable improvement for your sales team, please visit us at TeamVisibility.com to view our introductory video and request a demo. If you are going to be at Dreamforce 2012 during September 18-20 and would like to meet us, please email info(at)teamvisibility.com to set up an appointment.