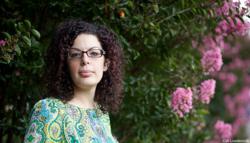 Lynchburg, Va. (PRWEB) September 13, 2012
Monique Maloney, an instructor for the Liberty University Department of Studio and Digital Arts, has designed a line of iPhone cases for OtterBox.
Her designs make up the "Eternality" line, part of the OtterBox Studio Collection. The Studio Collection cases are part of the Defender Series line of cases, which are multi-layered and offer protection against drops and dings.
Maloney was asked by the company in February to create a design for trendy, hip, female iPhone users. She was recommended because of her creative line of stationery for weddings and children's events.
"What they were asking for was right up my alley," Maloney said.
Since the deadline was tight, especially in relation to her class schedule, Maloney worked through the night to create, sketch, and digitize six submissions.
OtterBox was so pleased with her designs that they asked for another four designs a couple of days later.
In the end, three designs were chosen for the line, one of which is available in two colors.
Maloney's artwork features flowers and paisley designs that resemble textile and classic wallpaper. She gathers much of her inspiration from nature.
"I just am so inspired and humbled by God's creation in nature," she said. "I want to represent what God has given to us in my art. I want people to notice the little details and notice the beauty that is around them and to just take a step back and really appreciate something positive."
As an instructor, Maloney tries to instill that in her students.
"Everything we design somehow influences somebody else," she said. "We have a responsibility as creatives. God gave us the gift, the talent, the creativity and we have to use that for good. I feel like we need to reinforce positive messages and we need to have a work ethic that reflects our testimony."
Maloney is entering her third year of teaching at Liberty. She teaches the graphic design courses, ARTS 222 and ARTS 340.
This summer, Maloney was featured on OtterBox's Studio Collection Artist Spotlight.
View more of Maloney's work at her website.
ABOUT OTTERBOX
OtterBox is the No. 1 selling smartphone case in the United States, according to the NPD Group Retail Tracking Service (Nov. 2010- June 2012), and offers protective solutions for smartphone and tablet devices from Apple, Samsung, Motorola, and many others. The company, which was founded in 1998, has experienced amazing growth during the last few years, landing at No. 85 on the Inc. 500 ranking of fastest growing private companies in the U.S. this year.
ABOUT LIBERTY UNIVERSITY
Liberty University, located in Lynchburg, Va., is the world's largest Christian university. Nearly 100,000 students attend classes on its 6,800-acre residential campus and study in its thriving online education program.