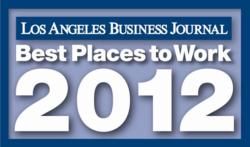 El Segundo, CA (PRWEB) September 14, 2012
For the second year in a row, the #1 ranked Online Marketing, Wpromote, has been named one of the Best Places to Work in L.A. by the Los Angeles Business Journal. Wpromote was ranked number 4 out of 75 companies in the Medium-Sized Employers category, which includes companies with 50 to 249 employees. Wpromote has improved their ranking from number 6 in 2011.
The Los Angeles Business Journal's Best Places to Work in L.A. initiative is dedicated to recognizing the best companies in the county. In the program, employees complete a survey evaluating their employer's policies, practices, philosophy, demographics and benefits. The survey also focuses on overall employee engagement including questions regarding leadership, communication, role satisfaction, work environment, training, pay and relationship with one's supervisor.
Wpromote prides itself on being an enjoyable and rewarding place to work. The Company offers many benefits to their employees, such as a healthy work environment. Complimentary weekly yoga classes and sessions with a masseuse are available to all employees, as well as free fruit and other healthy snacks. Wpromote also provides full health coverage for their employees including medical, dental and vision benefits.
In addition to this award, Wpromote was recently honored for the sixth-consecutive time on the Inc. 500|5000 annual list of America's fastest-growing privately owned companies, making the company an elite member of Inc.'s Honor Roll.
About Wpromote
Wpromote is an award-winning online advertising firm headquartered in El Segundo, CA. Founded in 2001 by Michael Mothner, Wpromote has helped over 37,000 clients grow their businesses online. With unmatched experience in search marketing and an unrivaled dedication to our clients' results, we always stand out above the crowd. The 85+ employees at Wpromote currently manage more than 3,500 clients spanning a wide range of industries and verticals in over 60 countries worldwide. A few integrated search engine marketing clients include Bayer HealthCare, Dickies, Toyota, Allied Van Lines, HP, Southern California Edison, Symantec, Southern New Hampshire University and Wine.com. Interested in working for this distinguished company? Apply today!