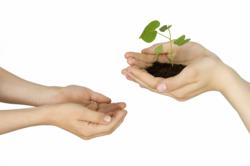 Sustainability practices include maintaining the conditions under which humans and nature can exist in productive harmony.
San Francisco, California (PRWEB) September 18, 2012
While shopping at the mall, grocery store, or even a furniture outlet, the word sustainability is often thrown around as a popular tag line. Whether it is in a brochure, on the back label of a food container, or a word from a salesperson's mouth.
But, what does sustainability actually mean and why should consumers care?
Sustainability's main purpose is to consider the survival and well being (directly and indirectly) of the Earth's natural environment. Sustainability practices include maintaining the conditions under which humans and nature can exist in productive harmony. In such that this cohesive bond permits fulfilling the social requirements, economic requirements, and any other requirements of present and future generations that would promote an environment that will last the test of time thus having a positive impact on the health of its inhabitants. Maintaining the world's water, materials, and resources help to protect human health and our environment. Presently, the EPA aims to make sustainability the next level of environmental protection by drawing on advances in science and technology to protect human health and the environment, as well as promoting innovative green business practices. The consumer can actively take part in the sustainable movement by shopping at green businesses.
Where can one find green businesses?
Before purchasing a product, the most efficient way to shop is to compare and research a few websites. Often researching a company's mission statement or about section will uncover their values.
Now the American Government is taking an extra step in the green business market by creating the Higg Index website. This is a site where consumers can go and look at different companies green scores. In a recent article, "How U.S. Clothing Brands Are Getting greener", written by Eliana Dockterman, she explains that 21 billion pounds of apparel ends up at landfills, and that producing a single pair of jeans can take up to 1,600 gallons of water. With these astonishing numbers, Nike, Target, and other companies have banded together to create the Sustainable Apparel Coalition, which helps clothing companies become greener by assigning them sustainable scores in the Higgs Index. These scores will become public through many different social sites in the near future. The scores will be based on a thorough look at the companies manufacturing process, from harmful chemicals used up, to the energy wasted during creation and transportation of a product.
Eco-conscious consumers can also look into companies who take responsibility in recycling their products or at least lead their customers to accessible recyclable locations. One of the biggest challenges with products, especially mattresses is the recycling process. In a recent article in the North County Times, "Old mattress disposal is a growing problem," said a 2004 study commissioned by the Alexandria, Va. - based International Sleep Products Association.
The Futon Shop, the largest organic mattress retailer in America, based in San Francisco California has been practicing sustainability since 1976. The Futon Shop believes in the Farm to bedroom movement. Farm-to-bedroom refers to a movement concerned with producing home furnishing and mattresses from organic materials locally harvested, naturally processed, and chemical free. Farm-to-bedroom is also associated with organic farming initiatives and sustainable agriculture in which the very furniture, sofa beds and mattresses you use is manufactured using these natural resources. The Farm-to-bedroom cycle ends back at The Futon Shop where you can then recycle your old mattress. This is possible because The Futon Shop has aligned itself with DR3 the country's largest mattress recycler. All of this takes place in The Futon Shop's manufacturing plant located in San Francisco and distributed to their 10 showrooms throughout the state.
The Futon Shop is a vertically integrated retailer that manufacturers over 33 organic and green mattresses from start to finish. The company dates back to 1976 led by Suzanne Diamond and her team of specialists dedicated to producing eco friendly furniture and bedding. Their mission is to produce the best eco-friendly/chemical-free Organic and Natural futons, organic mattresses, futon covers for sofa beds, futon frames, and platform bed frames that promote better healthy living and a good night's sleep for all.