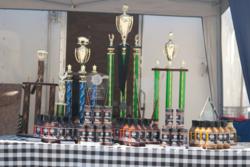 Cornette says "It's very exciting to compete in a barbeque tournament format. The Tour is good for barbecue and will bring additional recognition to the sport of competition barbeque."
Charleston, SC (PRWEB) September 13, 2012
On June 16th, the official barbeque team of the Market Street Saloon, Queology, placed 1st in the pork category and 3rd overall in the local Sam's Club National BBQ Tour competition. This win earns Queology a spot in the regional competition scheduled on September 22 in Hendersonville, TN.
This is the second year that Sam's Club has sponsored the National BBQ Tour and is the only national tournament specializing in barbeque. Cornette says "It's very exciting to compete in a barbecue tournament format. The Tour is good for barbeque and will bring additional recognition to the sport of competition barbecue."
Queology is made up of five members: Russ Cornette, Matt Gamble, Brian Roberson, Chris Campeau, and Dennis Jarrett. The team has over 35 years of competition barbeque experience and knowledge. Queology has racked up numerous awards over the years and is a highly decorated barbeque team.
Queology, the official barbeque team of the Market Street Saloon, is the only team from the South Carolina Lowcountry advancing to the regional level in the Sam's Club Tour. Cornette says, "I'm very honored and proud to have the opportunity represent Market Street Saloon, the South Carolina Lowcountry, and especially Summerville on a national barbecue stage." Queology will travel to Hendersonville, TN in September to compete against 29 other teams, and possibly advance to the national final competition in October. To keep up with Queology, visit them at http://www.facebook.com/queologybbq.
Charleston Hospitality Group offers custom packages or individual rates for great food, nightlife, and first class transportation to take in all the sights. No matter what the occasion – allow us to give you the grand tour of Charleston and our local hospitality. Charleston Hospitality Group is comprised of Toast!,Tabbuli, Market Street Saloon, Eli's Table, Whisk Bakery, Charleston Hospitality Catering, Charleston Downtown Limo and Charleston Black Cab Company. With such a wide variety, we have something for everyone!
For more information please visit http://charlestonhospitalitygroup.com or contact Sam Mustafa at marketing(at)charlestonhospitalitygroup(dot)com