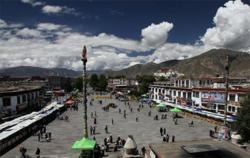 (PRWEB) September 14, 2012
Songtsan Travel, a locally-owned Tibetan travel agency, now offers multi-day tours of the Tibetan capital Lhasa. At 3,490 meters, Lhasa is one of the highest cities in the world. The city is renowned for its many culturally significant Tibetan Buddhist sites.
Highlights of Lhasa tours include:

The Potala Palace was the primary residence of the Dalai Lamas. Today it is a state museum, a popular tourist attraction, and a UNESCO World Heritage site. It was also recently named one of the "New Seven Wonders of the World" by the television show Good Morning America and the newspaper USA Today. Built on a rocky hill overlooking the city of Lhasa, the Potala Palace has a sturdy fortress-like appearance. It contains more than a thousand rooms spreading over an area of 1,300 feet by 1,000 feet. The stone walls are 16 feet thick at the base, but more finely constructed (without the use of nails) in the upper stories.
Jokhang Temple ("House of the Lord Buddha ") is the holiest site in Tibetan Buddhism, attracting crowds of prostrating Tibetan pilgrims and curious foreign tourists every year. It hosts the annual Great Prayer Festival, as well as all ceremonies of initiation for the Dalai Lama and Panchen Lamas. Jokhang Temple was founded in 647 by King Songtsen Gampo the first ruler of a unified Tibet, and his two foreign wives who are credited with bringing Buddhism to Tibet. Standing four stories tall and covering an area of about 25,000 square meters in the heart of Lhasa, Jokhang Temple combines local Tibetan elements with influences from Nepal, China and India. In the front is a large plaza and open porch, which is usually filled with prostrate Tibetan pilgrims.
Surrounding the Jokhang Temple, Barkhor Street serves as a trading and religious center. The market contains local folk art and crafts, Tibetan-style daily goods, and prayer wheels, as well as knives, thangka paintings, musical instruments, gold and silverware, masks and more.
Norbu Lingka Park is the biggest man-made garden in Tibet, having an area of about 360.000 square meters with 374 rooms. Norbu Lingka Palace was built in the 1740s by a Qing magistrate. Later it was used as the summer palace for Dalai Lamas, where they solved political problems and held festive celebrations. It is now a park open to the public.
Songtsan Travel is a licensed international tour operator located in Lhasa, Tibet. They are a team of native Tibetans with their own jeeps, guides and travel crew who work across all areas of the plateau. They are happy to announce that part of their income now goes to support children's education in Tibet.
"Our mission is to make a traveler's dream of a trip to Tibet into a reality," Songtsan Travel said. "We have more than two decades of experience working as tour guides in Tibet. We understand the land well and have explored every corner of the region."
Because foreign travelers are not allowed to travel independently in Tibet, according to Chinese government policy, tours must be arranged by a licensed agency. Songtsan Travel is a full-service tour operator that is uniquely qualified to plan Tibet trips.